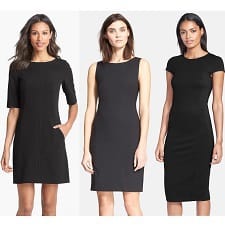 As the weather warms up, tights and boots start to go away, and skirts and dresses come out of the closet more. When is a dress too short for work? Does a slightly longer hem length feel more "modern" to you? What shoes do you wear with different dresses and skirts? And, if you're tall or short, how do the rules change? 
(Pictured at top: short / longer / longest)
Dress Lengths: When Is Your Dress Too Short for Work? What Skirt Length Feels Modern Now?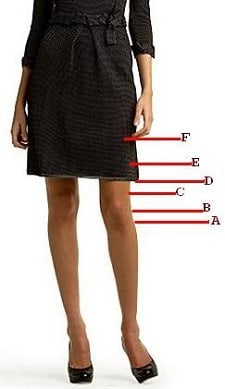 First, for dress lengths — our last poll on this still feels pretty appropriate to me, with most people agreeing that "just above the knee" is the right length for most skirts for work ("C" in the image at right). Still, the more recent midi-trend is so strong that even some of the age-old best-selling sheath dresses (like the middle option, at top) all look a bit short, while longer styles (like the third option at top) look a bit more modern.
Which Shoes to Wear With Different Dresses and Skirts
Which shoes to wear with dresses is an entirely separate subject. Which shoes do you like to wear best with different lengths of skirts? See the chart below. To my eye:
with shorter shift dresses (like Option 1, below): The shorter the skirt, the lower and/or thicker the heel — a slightly pointy-toed ballet flat, a wedge, a newer block heel, or an architectural heel all work with shorter skirt lengths. Even a low sandal/bootie hybrid or a lace-up flat would work well (but know your office!).
with classic sheath dresses (like Option 2, below ): The most classic look is a skinny heel, even if it's a kitten heel — but anything too high (4″ or over) may look weird given current trends. If you're going to go with a flat here it should be sleek — a slightly pointed toe, or for some reason I like the idea of a smoking slipper/loafer/mule (with a fairly "delicate" tongue, like this loafer).
with trendier midi dresses (like Option 3, below): A higher heel always works best here, whether it's a block heel or a classic stiletto. If you've really got a casual day ahead, a bootie or a sandal/bootie/lace-up hybrid might work with a midi skirt, but it's hard to make it anything but a trendy look
with fit and flare dresses (like Option 4, below): I think this is one of the most versatile styles for dresses. If we need to play favorites, a sleek wedge or flat might work best, but really almost any style of shoe will work here.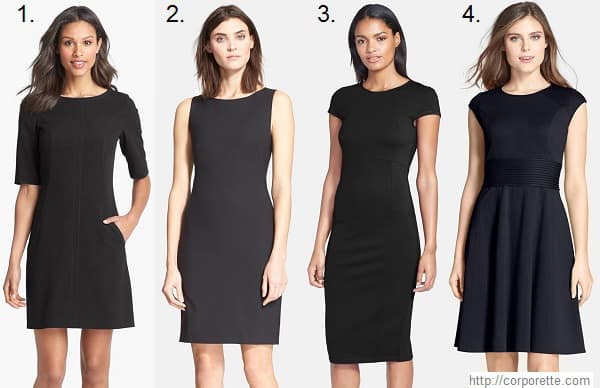 Pictured above: shift dress (1) / sheath dress (2) / midi dress (3) / fit & flare (4)
(updated because it was confusing having two charts with letters!)
Special Considerations: Dress Lengths for Tall Women and Short Women
For taller women, we've rounded up workwear for tall women and suits in tall sizes in the past — but readers who are taller, let's hear your thoughts: Do any special rules apply to tall women and skirts? Any favorite spots to get skirts and dresses that "get you" as a tall lady?
From a short person's perspective: Perhaps because I'm short (5'4″), I've always assumed if a dress or skirt is shown on the model as being a hand above the knee, it will be A-OK for me at work because it'll just be an inch or so above my knee. (Obviously, trying things on may change that perception! But I tend to regularly order regular length dresses and skirts, even if I tend to prefer short/petite pants.)
Readers, over to you: When is a dress too short for work? What do you think the perfect length is for a dress for work these days? Which shoes do you like to wear with different dresses? If you're taller, what do you think the rules are for tall women wearing dresses — and where are your favorite places to stock up on the best tall women's dresses for work?