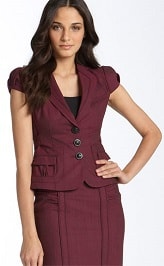 August 2023 Update: Curious about the next big Nordstrom sale? The 2023 Nordstrom Anniversary Sale just ended, but the next big sale will be their Half-Yearly Sale around Dec. 24. Unfamiliar with the NAS? Check out this page for more info on why it's the best sale of the year.) Sign up for our newsletter to stay on top of all the major workwear sales, or check out our roundup of the latest sales on workwear!
The below content is about the 2010 Nordstrom Anniversary Sale.
For busy working women, the suit is often the easiest outfit to throw on in the morning. In general, this feature is not about interview suits, which should be as classic and basic as you get — instead, this feature is about the slightly different suit that is fashionable, yet professional.
We're not normally a fan of the short-sleeved jacket, but we like here with this Nanette Lepore suit. The jacket is shapely, with puffed sleeves and a nipped in waist, and the vertical lines on the skirt are slimming. We like the unusual color, also — it would make a great late-summer, early-fall suit.
(If it ever gets cold again, we'd wear it with a tissue-thin long-sleeved tee beneath the jacket, either scoopnecked or turtlenecked.)
Both pieces are part of the Nordstrom anniversary sale going on right now — the jacket (Nanette Lepore 'Spy On Me' Cap-Sleeve Jacket) was $428, but is currently marked $284.90; the skirt (Nanette Lepore 'Top Secret' Pencil Skirt) was $278, but is currently marked to $185.90.