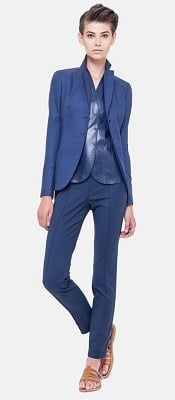 For busy working women, the suit is often the easiest outfit to throw on in the morning. In general, this feature is not about interview suits for women, which should be as classic and basic as you get — instead, this feature is about the slightly different suit that is fashionable, yet professional.
OK: I promise, this will be the last blue suit for a while. BUT: Look how purty! I like the little details – the three button closure, the slim, pintucked pant leg — gorgeous. It appears that the blazer and pants are made out of different fabrics, but I don't mind that so much here — the pants are a cotton blend, while the blazer is a cashmere and silk blend. I haaate the sandals it's styled with (why?!?) but the leather blouse is, well, intriguing for an all-blue look — a great example of how different textures can make a monochromatic outfit really pop. The jacket (Akris Cashmere & Silk Gabardine Blazer) is $3,990, and the pants (Akris 'Melissa' Slim Techno Cotton Pants) are a bargain (relatively speaking) at $795.
Here are a few more affordable options (one, two, three, four), as well as three plus-sized ones (one, two, three (matching skirt, pants)).