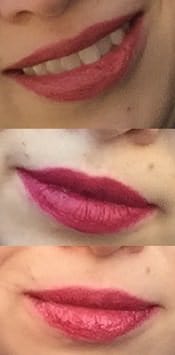 After years of choosing either mauve lipsticks or MLBB tints,* I'm now looking for An Everyday Red Lipstick. I'm still on the hunt for one that I like — it's a project to find one that has the trifecta of a) color, b) comfort, and c) longwear. By which I mean a) I want the perfect color for my skintone, b) one that is comfortable to wear and doesn't dry the heck out of my lips, and c) one that doesn't transfer to glasses (or my teeth, or my boys), one that doesn't fade unevenly (I haaaate the ombre lip look).  (Pictured: a few of the ones I've sampled: 1) MAC Pro Longwear in Extended Play — I liked the comfort/wear of this one the best, but they're apparently discontinuing the line.  BOOO.  2) Too Faced Melted in Berry — not my favorite on any of the 3 prongs — and 3)  M·A·C 'Mineralize' Rich Lipstick in Lush Life — my second favorite in wear, but just a touch too bright in color.) I've also tried M·A·C Prep + Prime Lip (my favorite thus far) and Too Faced Lip Insurance Lip Primer.)
I was surprised a few years ago at a few legal conferences to see the women speakers wearing the red lip, considering the challenges to finding the perfect color — but the red lip has historically been the power lipstick perhaps because it takes confidence to wear it.  At the same time, though, I like that you can look "done" with relatively little other makeup.
In terms of HOW to find it: while I'm really open to a drugstore lipstick (some of my favorite lipstick-that-stays-put is from there), finding the RIGHT shade is so important that it seems a lot less expensive to go some place (like Sephora) where I can try the lipstick on my lips and see how it wears, how it fades, how it looks in different light, etc.  So that's my plan…
We've also talked about the appropriateness of red lipstick at work in years past — what are your thoughts, ladies? Is an every day red lip too bold of a fashion statement for the day, best left to the occasional holiday party?  Which brands or colors are your favorites for red lips?  How often do you check it up after you put it on?  How many visits to Sephora or the like did it take before you found YOUR red?

Further reading:  Growing Up Meant Learning to Wear Red Lipstick [New York Magazine] and I'm a Grown-Up Lady [Huffington Post].  Hilariously, I forgot the title of the second one, so I'm surprised to see that it also is about growing up.  Do you associate red lipstick with being a grownup?
* MLBB = My lips but better.  We're actually working on a whole page of Corporette vocabulary and acronyms — let us know which additional ones you'd like us to include.
—————
N.B. These substantive posts are intended to be a source of community comment on a particular topic, which readers can browse through without having to sift out a lot of unrelated comments. And so, although of course we highly value all comments by our readers, we're going to ask you to please keep your comments on topic; threadjacks will be deleted at our sole discretion and convenience. Thank you for your understanding!