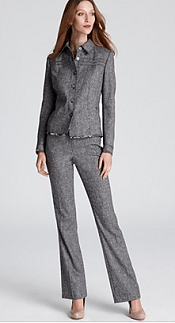 For busy working women, the suit is often the easiest outfit to throw on in the morning. In general, this feature is not about interview suits for women, which should be as classic and basic as you get — instead, this feature is about the slightly different suit that is fashionable, yet professional.
I love the little details on this suit from BASLER. For example: the floral print at the bottom of the jacket and on the cuffs, as well as all of the interesting stitching on the pants, the jacket, and the skirt. The jacket (BASLER Donegal Tweed Jacket
) is $695, the pants (BASLER Donegal Tweed Pants
) are $350, and the skirt (BASLER Tweed Pencil Skirt
) is $325 — all exclusive to Bloomingdale's. (Not pictured: the matching dress, BASLER Donegal Dress with Floral Top
, for $475.