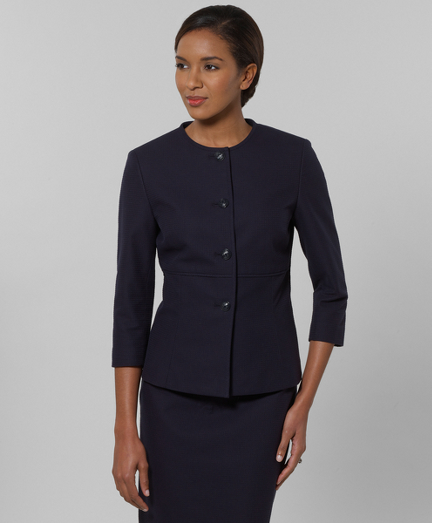 For busy working women, the suit is often the easiest outfit to throw on in the morning. In general, this feature is not about interview suits for women, which should be as classic and basic as you get — instead, this feature is about the slightly different suit that is fashionable, yet professional.
The Brooks Brothers clearance is on and there are some great suiting separates in the mix. For the Suit of the Week, I'm liking this navy cotton pique jacket and pencil skirt. First, I really like cotton pique as a summer fabric — lightweight, breathable, but far sturdier than linen. Second, this just looks like a great summer basic — love the collarless, high neckline (although I'd probably wear the whole jacket open), as well as the classic lines of the skirt. The jacket (Cotton Pique Four-Button Jacket
) is originally $248, and the skirt (Cotton Pique Skirt
) is originally $148. Now, the BB sale is a bit weird — if you buy one piece the price is 40% off the marked price, but if you "buy 3" then the markdown goes up to 50% off. My first understanding was that this was a volume discount (buy 3 of the cotton pique skirts, and then get 50% off), which may make sense for men but not so much for women. However, after some experimenting, it looks like if you buy ANY 3 pieces in the sale then you get the 50% off price — so for example, if you were to buy this suit plus, say, this dress (which is now back in stock in most of the darker colors), then you'd pay $262 for all 3 pieces — not bad at all.