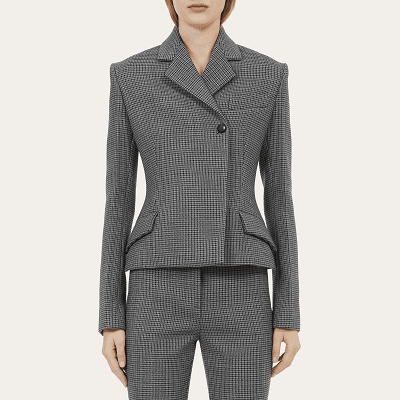 For busy working women, the suit is often the easiest outfit to throw on in the morning. In general, this feature is not about interview suits for women, which should be as classic and basic as you get — instead, this feature is about the slightly different suit that is fashionable, yet professional. Also: we just updated our big roundup for the best women's suits of 2023!
Ferragamo is doing some really interesting things with asymmetric blazers, but there's some horrible styling out there. Saks has the model (!) in pants that are too tight. NET-A-PORTER showcases the suit the way Ferragamo did on the runway, with a shorts suit to end all shorts suits. (It may be the craziest shorts suit I've ever seen, and that's saying a lot.)
This version in micro houndstooth shows what's great about it, though — it feels like a really classic suit, but with an offset row of buttons (mostly hidden) so there's just the slightest asymmetric detail. I love the effect in general.
You can find the houndstooth version at Ferragamo and Neiman Marcus for about $5000 for both pieces (not counting the matching overcoat). There's a plain gray version at Saks, NET-A-PORTER, Neiman Marcus, and Ferragamo for about the same price. NET-A-PORTER also has a similar cropped asymmetric blazer, although I'd skip the miniskirt for work.
Looking for more affordable (and basic) gray suits? These are our favorites…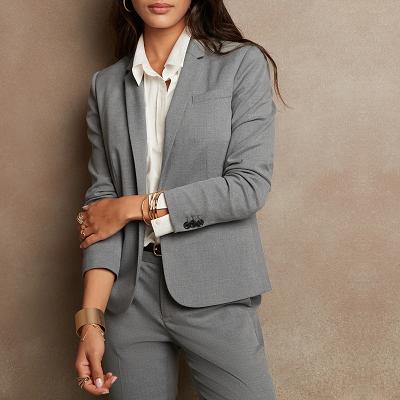 Workwear sales of note for 12.1.23
Our favorites are in bold!
Kid- and Family-Related Sales