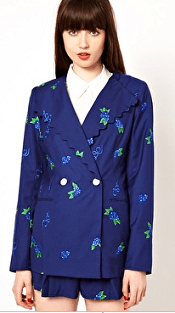 Sure, we all know what basics professional women are supposed to have in their closets, but if you're buying one for the first time or replacing one you've worn into the ground, it can be a pain to find exactly the right incarnation in stores. In "The Hunt," we search the stores for a basic item that every woman should have.
You know, guys, sometimes I have to admit that I'm wrong. For example: shorts suits. I can't believe I used to think shorts suits were completely unprofessional! They're the new, hot look that every designer is showing for spring, and there are a variety of great options to work for every body, every office, and every price point. Readers, how do you wear shorts suits to the office? Have you bought any great new ones lately?
Update: Ladies, before anyone actually buys one of these, please note the date of this post. :D

Zara has a great option for those of you who want to be a bit more demure and, you know, covered up at work — super long Bermuda shorts! I love that sleeveless blazer/huge vest/waistcoat. Both pieces are really affordable, too: The waistcoat is $79, and the Bermudas (found in the "trousers" section of the Zara site, not the "shorts" section) are $49.90. Zara Waistcoat with Lapels and Shoulder Pads
I don't know which is the best feature: the floral pattern, the scalloped lapels, the white buttons on the double-breasted blazer, or the shorts, which look comfortable enough to tap dance in. (It's a great new way to fit a workout into a busy day!) I also love the styling of the huge platforms with pale yellow socks. The model's expressions say it all: "You hoo! I'm here to work!" and "I am such a strong, confident woman that it's ok that my shorts are shorter than my fingertips — how do you expect me to get any tap dancing in otherwise?" The jacket is on sale at $146.30, and the shorts are $91.44, both at ASOS. Nishe Jacket with Floral Embroidery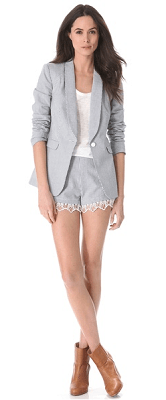 This canvas and cotton suit is perfect for a hot summer — I could see it being particularly great for those of you working in Washington, D.C. I particularly like the lace on the shorts, and as always, I love a good Rag & Bone blazer. The blazer is $550 at ShopBop, and the shorts are $255. (If blue lined canvas shorts aren't your thing, don't worry: they also come in black leather.) Rag & Bone Jefferson Blazer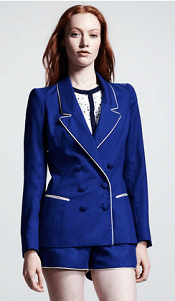 There's something delightfully "gangster" about this royal blue shorts suit from Nonoo. I like that both the blazer and the shorts are wool — hello, it gets totally freezing when the A/C is blasting! The double-breasted jacket is $595, and the piped wool shorts are $395, both at Bergdorf Goodman. Nonoo Anita Piped Jacket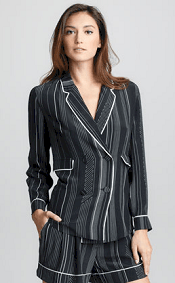 There is a lot to love about all of these shorts suits, but this 3.1 Phillip Lim one may be my absolute favorite. Not only is it entirely silk (in some of the shots the model has the blazer tucked into her shorts), but it sends a great message. I can't decide if that message is "Coworkers, I trust you guys enough that I want to have a slumber party with you!" or if the message is "I am so committed to this job that I intend to sleep at the office tonight!" But really, both messages are awesome, so who cares which one coworkers receive, am I right? The jacket is $750, and the shorts are $395, both at Bergdorf Goodman. 3.1 Phillip Lim Pinstripe Silk Pajama-Inspired Short Suit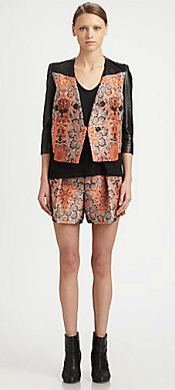 Helmut Lang has a number of gorgeous shorts suits out right now. I feel like this medallion leather-trim jacquard jacket is a total standout, though, and I like how the shorts look nice and roomy (and longer than her fingertips!) The jacket is $995, and the shorts are $540, both at Saks. Helmut Lang Medallion Leather-Trim Jacquard Jacket
Like this feature? Check out other recent installments!