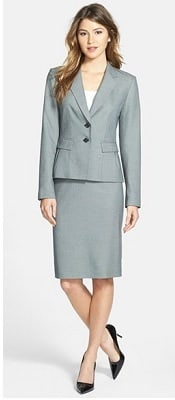 For busy working women, the suit is often the easiest outfit to throw on in the morning. In general, this feature is not about interview suits for women, which should be as classic and basic as you get — instead, this feature is about the slightly different suit that is fashionable, yet professional.
This pretty little skirt suit first struck me as green, for some reason, and I thought, oh, what an unusual color. It is in fact a gray and white pattern instead (you can see the pattern below, up close), which may make it even more versatile than a light green suit.  I like it as pictured with a simple white blouse, but I also would use the opportunity to add a bold color — a bright yellow always seems a natural thing to pair with a gray suit, but that's me; cobalt or red are both lovely as well, while a purple or pastel tends to be a bit more safe, subdued.  The suit is available in both regular and petite sizes (as well as plus sizes, which are on sale); regular sizes run 0-16.  The jacket (Halogen® 'Impulse' Suit Jacket) is $138; the the pants (Halogen® 'Taylor – Impulse' Pants) are $88, and the skirt (Halogen® 'Impulse' Pencil Suit Skirt) is $69.
Update: There seem to be a number of Halogen suits on sale for 40% off — lots of nice ones, including this navy dot, this navy-white crosshatch one, and this previously featured peplum one.