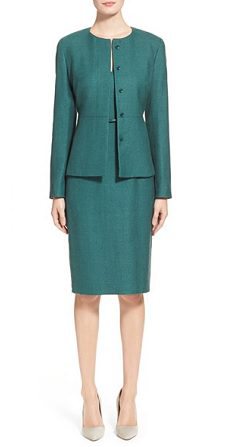 For busy working women, the suit is often the easiest outfit to throw on in the morning. In general, this feature is not about interview suits for women, which should be as classic and basic as you get — instead, this feature is about the slightly different suit that is fashionable, yet professional.
Oh my.  Now this is a suit worthy of kicking off the year.  I loooove the color, the cut, the pieces together, the pieces as separates… gorgeous.  I know we discussed years ago whether colorful suits might age you, but we should probably revisit the topic — my personal opinion is that a single color, matte suit like this (no black accents anywhere, no shiny fabric) is actually quite chic, and particularly when we're talking Max Mara, it's a very lux look — opinions, ladies?  The jacket (Max Mara 'Reus' Peplum Jacket) is $995, and the dress (Max Mara 'Gavino' Belted Sheath Dress) is $795, both at Nordstrom.
Psst: this similar Michael Kors suit, previously featured, is 65% off now, bringing it down almost to Hugo Boss prices. Here's a teal plus-size pants suit.