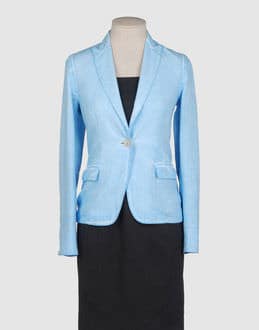 2016 update: check out our latest discussion on colorful suits, particularly light blue suits for summer… 
Today's reader mail comes from A, who wonders whether colored suits are appropriate for her…
Is baby blue totally off limits? I have a pale blue, Ann Taylor Loft cotton/nylon suit, c. 2005 that I've never worn. Gut feel says pale, baby blue is out, out, out. I'm new to summer, having just left San Fran after 4 years, so not sure how to dress for warm weather. Any advice?
Colored suits can be a very regional question. Our guess is that in D.C. or other points South, a head-to-toe pale blue suit (or red suit or purple suit) would be just fine. In other places (particularly other urban places), we'd advise you to break the suit up. For example, a blue blazer can be great with a sheath dress in black, navy, beige, or even white — it's a nice summery touch. Similarly, a pale blue skirt or pair of pants can be great for early summer. (Be sure to dry clean both pieces together!)  (Pictured: MASSIMO ALBA Blazers – Item 41158308
, available at Yoox.com for $325 (was $540) in sizes S and M.)

Readers, we haven't had a post on this in a while — what are your thoughts re: colored suits? In your comments, please be specific about where you're located.