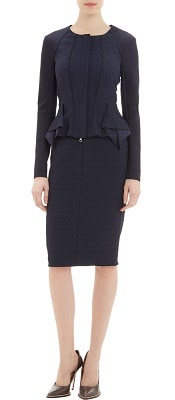 For busy working women, the suit is often the easiest outfit to throw on in the morning. In general, this feature is not about interview suits for women, which should be as classic and basic as you get — instead, this feature is about the slightly different suit that is fashionable, yet professional.
This Nina Ricci floral jacquard suit strikes me as incredibly unusual. First, I've never seen a wool floral jacquard quite like this one. Second, the curved panels and cutaway peplum make it look incredibly lux (a good thing, considering the price). And here's the most unusual thing about it: it has all of these fantastic design elements, and yet it still seems like it's totally wearable for a conservative job. The jacket (Nina Ricci Floral Jacquard Jacket) is $1990. The skirt, while apparently sold out at Barney's, is still available at MyTheresa.com for $1050.
The alternatives pale in comparison, but here's a blazer + sheath dress option with a similar vibe for about $60 total (!), and knitwear brand Misook has a bunch of nice collarless navy blazers and separates, in both regular and plus sizes, at Last Call. Meanwhile, for those of you with an extra $10K burning a hole in your pocket, may I direct you to this vaguely similar blazer.
Psst: Check out the Secret Sale at Kate Spade Saturday — up to 75% off! (Scroll down to the bottom of the page.)