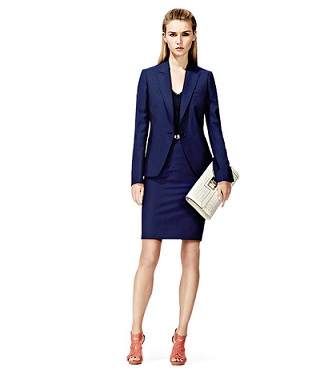 For busy working women, the suit is often the easiest outfit to throw on in the morning. In general, this feature is not about interview suits for women, which should be as classic and basic as you get — instead, this feature is about the slightly different suit that is fashionable, yet professional.
Love, love, love this "is it navy? is it purple? is it royal blue?" color, especially for a classic suit. The skirt suit strikes me as something wearable even at the most conservative of offices, but with just a hint of a fashionable edge. I also think this could be one of the easiest suits to grab and go in the morning because white, black, cream, and gray will all look lovely with it — just throw it on and hit the road. The pants are a bit too modern for my taste (slim! cropped!) but they do look nice on the model, so if you have the body and the office for them, rock on out. The jacket (Reiss Maxine CURVE FRONT JACKET
) is $500, the skirt (Reiss Venetia SEAM DETAIL FORMAL PENCIL SKIRT
) is $230, and the pants (Reiss Milano ROLL BACK SLIM FORMAL PANT
) are $255.