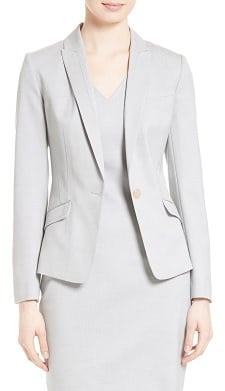 For busy working women, the suit is often the easiest outfit to throw on in the morning. In general, this feature is not about interview suits for women, which should be as classic and basic as you get — instead, this feature is about the slightly different suit that is fashionable, yet professional.
I've often said that I prefer light gray to white in summer because I think it's more wearable, and this light gray suit from Ted Baker is lovely. (Just a note: A lot of Ted Baker stuff right now has really lovely rose gold–tone hardware, including this suit.) I think the angular darts in the front are unusual and beautiful, and the blazer almost has a peplum cut to it. The single-button style looks nice, too. The suit comes in sizes 0-5 (oo-14) at Nordstrom. The jacket (Radiia Suit Jacket) is $429, the dress (Radiiad Suiting Sheath Dress) is $295; matching pants are $215.
This light gray suit at Talbots is more affordable and comes in four size ranges.