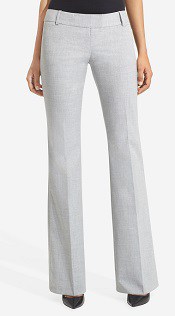 2019 Update – Check out our gallery for 2019 picks for light gray pants for work! We still stand by all this advice for why light gray pants are super versatile for work.
Sure, we all know what basics professional women are supposed to have in their closets, but if you're buying one for the first time or replacing one you've worn into the ground, it can be a pain to find exactly the right incarnation in stores. In "The Hunt," we search the stores for a basic item that every woman should have.
Yeah, yeah: we've all heard that summer is the Time of the White Pant. For my money, though, summer is the perfect time for the Very Light Gray Pant. It's summery without the fuss of the white pant (keeping it clean, finding no-show undergarments, etc), and it's also not quite as stark/statement-y as white pants. Wear it with neutrals, or wear it with colors — the pastels of spring, the vibrant hues of mid-summer, even the darker hues of late summer. Unfortunately it seems like not all retailers agree with me — it was a bit of a struggle to find any gray pants (let alone light gray ones), even at some of the usual suspects for women's workwear. Readers, what do you think — do you agree with me that a Very Light Gray Pant is essential for summer? Do you prefer white trousers? In general, which brands and styles are your go-to pants for work?
2019 Update: Check out More Light Gray Pants for Work
The pants below are probably sold out, but we still enjoyed rounding them up in 2013! N.B.: This post was originally written May 13, 2013, but substantially updated in August 2019.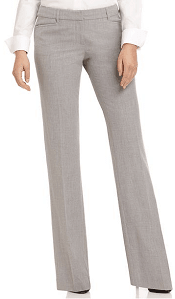 "Pearl Heather" — great name for a very light gray. I like these Michael Michael Kors pants from Macy's — well-reviewed and affordable. They were $69.50 but are now marked to $49.99. MICHAEL Michael Kors Pants, Gramercy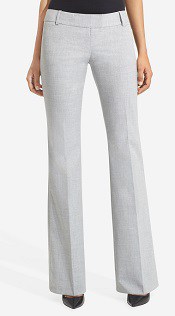 These light gray Drew pants from The Limited look nice, and I like that they note that you can machine wash them in the description. They're $74.90 at The Limited, but today you can take 40% off with code MAY40, bringing them down to $45ish. There is a matching blazer for $158 ($95ish with the code). Drew Beltloop Classic Flare Pants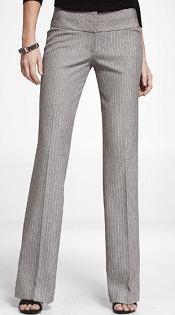 Express has two pairs of gray pants that I like — this pinstriped pair (pictured) and a pair in a herringbone print. These chalky pinstripes look flattering (I particularly like the slant pockets); they're also machine washable. Both pants are $79.90 at Express. PINSTRIPE WIDE WAISTBAND EDITOR PANT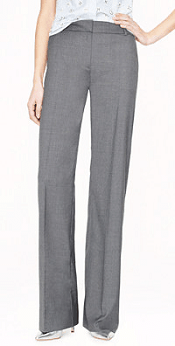 This pictured pair of Hutton trousers is actually the darker of the two grays offered (but it's the one on the model). The lighter gray, "light heather gray," has a nice crosshatch pattern; I also think of their super 120s wool as being four-season. The Hutton trouser is $148, available in regular, petite and tall (and lots of matching pieces: two blazers (1, 2) and two pencil skirts). Hutton trouser in Super 120s
Like this feature? Check out other recent installments!