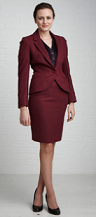 For busy working women, the suit is often the easiest outfit to throw on in the morning. In general, this feature is not about interview suits for women, which should be as classic and basic as you get — instead, this feature is about the slightly different suit that is fashionable, yet professional.
Yes, I know, it's the first day of summer: but this gorgeous red/purple tweed suit that I've been coveting just went on sale (finally!) and I had to share. Love that gorgeous color — perfect for fall — as well as the curvy shape the jacket makes while buttoned. I've never tried suits from Thomas Pink before, but as the makers of some of my favorite button-front shirts I'm guessing the jacket and skirt will be an exercise in tailored, quality goodness. There are still a ton of (UK) sizes left from 4-20. The jacket (Heath Jacket
) is now $349, and the skirt (Dales Skirt
) is now $149.