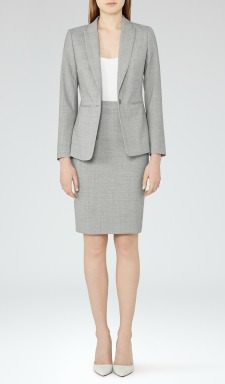 For busy working women, the suit is often the easiest outfit to throw on in the morning. In general, this feature is not about interview suits for women, which should be as classic and basic as you get — instead, this feature is about the slightly different suit that is fashionable, yet professional.
I've said it before, I'll say it again — I kind of prefer light gray to white in the summer, even though every fashion magazine will tell you how a white suit is a must-have. (Let's face it, though — the fashion magazine is probably telling to wear a white suit with shorts, or sleeveless blazer, or something else that's a bit too trendy for an office where you actually would wear a suit.) Anyhoo: this light gray suit from Reiss looks perfect — sleek but light for the summer. The jacket (Reiss Aleggra Single-Breasted Blazer) is $445, the skirt (Reiss Aleggra Pencil Skirt) is $240, and the pants (not pictured: Reiss Aleggra Tailored Trousers) are $220.
Here's a plus-size alternative (jacket + pants), as well as a more affordable option in regular and petite sizes (jacket and pants + skirt) and plus sizes (jacket + pants).
Admin Update: If the site has been weird/laggy/crashy for a few days for you, please tell us more in comments to this thread. I noticed a weird delay when I tried to comment, while logged in, in Chrome today on the Tales from the Wallet post, but thought it was just my computer.