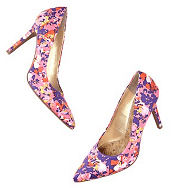 When can interns wear statement pieces like necklaces or shoes? Reader C, a law student, wonders….
I am a current law student preparing for a summer internship. I've been reading through a lot of your old posts trying to get a gauge on appropriate office wear. My question is about shoes.

I'm wondering how far is too far with statement shoes. If I am wearing a more muted outfit, is it okay to have a more colorful pair of shoes? For instance, I was considering a pair of shoes like these from Loft.

Would those be considered too bold for an office?
Interesting question. We get into this time and time again, but I'm always curious to see what the readers have to say. For my own $.02: Those are not first day shoes. Those are not big meeting shoes, or networking shoes. But: they could be office shoes. As in, you're having a low key day, you're not seeing anyone important, and you just want to mix it up a little bit.
Psst: stay tuned for a roundup of our recent favorites for colorful, statement heels and flats!
This post contains affiliate links and Corporette® may earn commissions for purchases made through links in this post. For more details see here. Thank you so much for your support!
To be honest, if you're interning at a BigLaw firm, there probably are not going to be very many of those days. So this becomes an issue of budget: if you have the money to spend for shoes that you may way a few times during the summer, then knock yourself out. (There are very limited sizes left at Loft, but they are crazy affordable with today's 40% off sale — they were $79.50, then marked to $69.50, with the extra 40% off they come to $41.99. Petra Multicolored Floral Print Pumps)
Just to back up a little bit — why, you may be asking, should the intern not wear these shoes to meetings and networking events? Because they distract attention from where the focus should be for a young legal intern undergoing what is basically a 10-week job interview: her ability to do the job. For lawyers, your fashion sense is not really something you want your boss to think about, beyond "I can take her with me to meetings with clients and not be embarrassed." It's a subconscious, half-second decision, and as the intern you want to be firmly in the "yes" category when you're an intern/prospective hire, and as far from the "maybe" category as possible.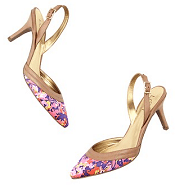 But maybe I'm being overly harsh because these particular pumps are not my cup of tea — a bit too floral, too girly, too "I'm attending a ladies' charity luncheon today." But that's just a taste issue — and I would still say that the less floral version is a "mix it up on a casual day" kind of shoe.
Here are some fun statement necklaces as of Nov. 2022… Note that Alexis Bittar, Karine Sultan, Bauble Bar, Deepa Gurnani, Knotty, and even All Saints and Kendra Scott often have some nice options as well.

Readers, what do you think — when can interns safely wear statement pieces? When does a "fashion risk" for an intern pay off?