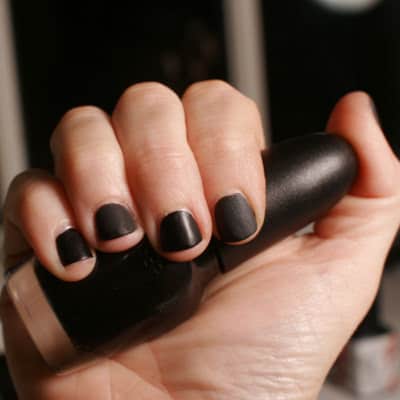 Today's guest post is from Siouxsie Law (who has since stopped blogging), who we've asked to write a few words about when to express yourself, and when to toe the line…
I am the author of Siouxsie Law — a legal blog. I am a litigator and also goth. My style does not conform to corporate standards. But it has not prevented me from attending a top-tier law school, receiving a federal clerkship, and snagging my dream firm job.  (Photo credit:  Siouxsie Law.) Social media photo credit: Deposit Photos / Vikkin.
What in the world is a goth lawyer doing on Corporette?
A few months ago, I blogged about the whole debate concerning seminars offered to professional women to help them learn how to dress and apply makeup.
People love to judge women by their appearance. Too feminine. Not feminine enough. Too confident. Not confident enough. Too dressed-up. Too casual. Too sexy. Too dowdy. Ugh. It is time to move on.
There is no dispute that there are fashion rules in the corporate world for women. Whether you think these rules are right or wrong, sexist or feminist, oppressive or well-intentioned, they exist and are not going anywhere any time soon. So do yourself a favor, if you choose to work in the corporate world, especially in a conservative office (e.g., BigLaw) play the game and follow the rules. Embrace the corporate uniform — dress well, put on some makeup, and wear the biggest heels you can find. Why? Because if you follow those rules and do it well, you get to bend them.
Recently, Kat challenged me to articulate when to play it safe and when to let your freak flag fly.
How to Show Personality at the Office
Play it safe sometimes.
If you read Corporette, then you already know that courtroom appearances and interviews are probably not the time to try to express yourself through fashion. This probably applies to any situation where you have a limited time to make a first impression, and where the stakes are high.
If you are interning or just starting out, take it slow and establish yourself first. If you are meeting with a client that is more conservative, respect that.
This means no crazy heels, no trend-setting nail colors, no pant suits, no crazy tights and no knee-high boots. Use your tattoo concealer (or, better yet, avoid getting tattooed in a hard-to-conceal location). Remove your piercings, except of course for single ear pierces.
Make sure you are comfortable and confident with these compromises. If you are not, it probably is better to break the rules and deal with the consequences.
Once people get to know you, loosen up.
If executed the right way, there is nothing wrong with being edgy, unique, or quirky. Mind you, I'm not advocating a race to the bottom. I don't think law firms or corporations should look like a rave. But I don't aspire to look like I walked off the set of L.A. Law either. Go slow and look for opportunities to express your individual style.
Casual Fridays and weekends are a great place to start.
The rhythm of the workplace slows a bit on Fridays and Saturdays. The rules of the workplace relax. Don't fall into this trap. On Fridays and Saturdays, try to keep up your pace and style. Work harder and goth it up more (or whatever look you are going for). They will never know what hit them.
Casual Fridays can be a challenge. In some workplaces, the rules are not clearly defined. Instead of complaining about this state of affairs, take advantage of the fashion loophole. Just be sure not to go too casual.
No one really likes working on the weekends. But a lot of us have to. So, make it more interesting. It's a perfect opportunity to introduce your knee-high boots, fishnets, and/or black nail polish to your office. Probably not all at once though, no matter how awesome that would be.
Not only is this a great chance to reveal your personality, it will make working on Saturdays a lot less soul destroying. And you might as well have everyone else notice that you are there. So, go ahead and stand out a little.
Take it slow and be consistent.
Have a style trademark — one thing or look that you wear all the time. By wearing something unconventional on a regular basis, you diminish its shock value. Plus, when you commit to a look that is a little out of the ordinary, it shows confidence and sets you apart. I, obviously, wear a lot of black. And I also take pride in my eyeglasses. For me, those are my trademarks.
Jewelry is another great place to make your mark. I know one attorney that regularly wears spooky kitty-cat brooches. But she always wears them with her St. John suits. Neither the brooches nor the suits are my personal preference, but it works for her.
If you want to push the boundaries, nail polish is another way. The consensus seems to be that only nude and pink shades are appropriate for a conservative office. But, if Justice Sotomayor can pull off red nail polish, and the First Lady can make light blue look good, then it is time to throw out those rules. I personally favor dark colors — reds, blues, purples, and of course black.
This wouldn't be a proper goth post without discussing fishnets in the office. The rule is definitely don't do it. But unlike Kat, it has not been more than 100 days since I last wore fishnets to the office. I guess some rules are meant to be broken. If you decide you want to break the fishnet rule, I recommend wearing Wolford's; good luck!
Is any of this worth it?
It depends. If you are content with your style and current choices, then there is no need to push the limits. Let's face it, you don't set the standards as to how to dress in the workplace. So it is probably safer to follow them.
But if there is part of you that is looking to branch out, give it a try. Remember safety can come with a cost. The venerable Maureen Dowd recently noted:
Sometimes the thing that's weird about you is the thing that's cool about you. When you're young, and even at times when you're older, it's hard to fathom this: What needs to be nurtured is the stuff that's different, that sets you apart from the pack, rather than the stuff that helps you blend in.

Maureen Dowd
Don't be so quick to set that part of yourself aside.
Readers, what are your rules of thumb for knowing when to express yourself — and when to conform?