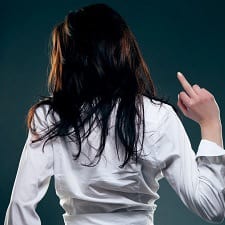 Here's a fun question for today: are you for or against swearing at work? Do you think less of colleagues and bosses who do it — or does context matter (e.g., you're only against it if someone is swearing out of anger or swearing around little kids (or older colleagues)?) Or does your vocabulary rival a sailor's? Do you consider it a measure of closeness, of "being in the club"? (Does anyone do it to prove their mettle — I'm thinking of the characters from the video for parody video Bitch in Business.) What about crass sayings that aren't quite swearing, such as "oh, he's just swinging his dick around" — yea or nay? (Haha: any favorite phrases to share?)
I can't find the post now, but I know we've talked about this as a facet of gender relations in the office — in the past, I'd gotten the sense that male lawyers I worked with were deliberately toning their language down when I was around — whether it was because I was junior, a woman, or if there was something about me personally I can't say. My solution was often to be the first to casually swear in front of them — but looking back maybe I made too much out of it.
In general, I like to joke that I was a sailor in a previous life, because my language — with good friends, at least — tends to be on the saltier side when kids aren't around. That said, I've always felt that in writing (such as this blog) that swearing is the "lazy" way — there's almost always a better word or metaphor that can be used if you take half a second to think about it. I tend to take that approach in most interactions with adults who I don't know well, especially since I've toned my language down enough around my kids to reflexively say "sugar/fudge/darn it" rather than their other versions. (Interesting side question: is saying "sugar/fudge/darn it" at work equally off limits — the equivalent of bringing in homemade cupcakes to the office or some other office mom behavior?) In terms of swearing out of anger, I think there's a difference between screaming at the universe ("fuuuuuck!") or using it as an adjective (you've got to be f-ing joking) versus screaming it at a person (e.g., you f-ing asshole / get me the f-ing book) — and I think even the screamers I worked with would recognize that difference.
How about you, readers — are you for or against swearing at work? If you're against swearing at work, do you view it as politeness, laziness, or something else? And if you're for swearing at work do you view it as being a member of the club, being an adult — or something else?
Stock photo: Deposit Photos / RobStark.