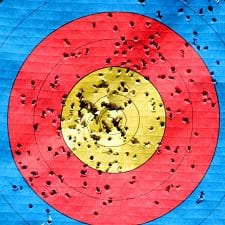 2017 Update: We still stand by this advice on what to do when your boss has it out for you (and links have been updated) — but you may also want to check out our more recent discussion on how to deal with extreme coworkers.
How can you avoid getting fired when your boss has it out for you? In general, how can you deal with horrible bosses? Reader M has a good question:
I know you've covered things like workplace etiquette and tips on dealing with co-workers, but do you have any suggestions on how to deal with horrible bosses? A friend of mine has been having issues with a boss (male, if that matters) who has been bullying her recently through means of intimidation, threatening her position in the workplace, and embarrassing her in front of clients. With a downward spiraling economy and many people being laid off, what is the best approach to dealing with someone who is looking for a reason to fire you?
Ouch. I'm sorry for your friend, M! Vivia Chen at The Careerist just covered what to do when you're getting fired, so this seems timely to me.  Everyone has a lousy manager at some point in their life, some of whom actually hate you.  I once clashed so badly with a superior that she actually threw a redweld at my head (yep, Professional was her middle name); I've fortunately blocked out most things about that time in my life beyond the fact that I woke up, every day, to Whitney Houston's song, "It's Not Right, But It's Okay."  You will get out.  Here are some tips for the friend with the bad boss:


– Start a written record of your dealings with the boss.  If there are misunderstandings or miscommunications, document those.  I would start keeping all emails and voicemails, not only from the boss but from anyone involved with the boss — other underlings, clients, etc.
– Keep calm.  Do not let the boss bait you into responding in an unprofessional way.  Chalk this behavior up as "par for the course" — it will help you avoid being surprised or hurt when the boss behaves badly, as he or she inevitably will.
– Do not trash talk the boss.  Not with coworkers, not with clients, not with all those job interviews you're hopefully going to have very soon.
– Reconnect with your references (and possibly ask for advice on dealing with the boss).  Sometimes a reference will turn into a great mentor in this kind of situation, and give you wonderful advice about how to deal with a bad boss; even if the reference doesn't turn into a great mentor asking her for advice still gives her more perspective to what's going on, especially if your boss does succeed in firing you.  Besides, you never know — your reference might hear about a perfect new job for you.
– Plan your exit.  First, get your resume into fighting shape right now.  Depending on your experience, I would suggest looking at lateral positions as well as next-step-up positions.  What are the skills and responsibilities missing from your current resume?  It sounds crazy to ask for more responsibility from a horrible boss (or to voluntarily spend any more time with him or her), but sometimes you need to double down in order to get out.
And when you do get out:
– Do not burn bridges.  Better yet, make nice.  Try to stay friends with your bad boss — you never know when they'll have a useful piece of advice for you.
Readers, what do you think? How have you dealt with bad bosses in the past? What would your advice be if someone thinks her boss hates her?
Original image (2013): Flickr / runran. Blue/red target currently pictured via Stencil.