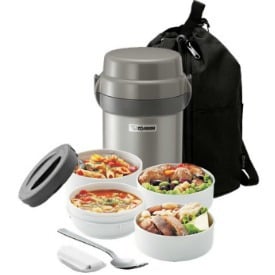 If you're like us, you bring your lunch to work when you're trying to save money, meal plan for healthier eating, or to be more eco-friendly and avoid all of those takeout containers. If you want to do those things, plus maintain a professional look — even if you're just eating at your desk or on a park bench — we've rounded up a variety of stylish office lunch containers. We're featuring adult lunch boxes, bento boxes, ice bags for keeping your lunch cool, insulated storage that will keep cold things cold and hot things hot, reusable storage bags and food wraps, and more, including the Mr. Bento Lunch Jar Set pictured here — along with a restaurant that serves takeout food in reusable bowls. Readers, how often do you bring lunch to work? What are your favorite environmentally-friendly and stylish office lunch containers? Compared to brown lunch bags, Ziplocs, and individually-packaged food, what swap do you think makes the biggest impact environmentally? What is the easiest swap to make?
Psst: You may want to see some of our older tips on saving money on lunch at work (even if you're eating out all the time), what to eat when you have no time to eat lunch, and the best snack ideas for work. 
So start thinking about all of the meals you could take to work and how much waste you could save by making just a few changes to your routine with these items. Or, if you have your own lunch accessories that you swear by, feel free to share with us in the comments!