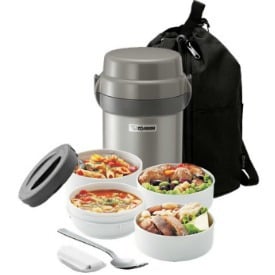 If you're like us, you bring your lunch to work when you're trying to save money, meal plan for healthier eating, or to be more eco-friendly and avoid all of those takeout containers.
If you want to do those things, plus maintain a professional look — even if you're just eating at your desk or on a park bench — we've rounded up a variety of stylish office lunch containers. We're featuring adult lunch boxes, bento boxes, ice bags for keeping your lunch cool, insulated storage that will keep cold things cold and hot things hot, reusable storage bags and food wraps, and more, including the Mr. Bento Lunch Jar Set pictured here — along with a restaurant that serves takeout food in reusable bowls.
Readers, how often do you bring lunch to work? What are your favorite environmentally-friendly and stylish office lunch containers? Compared to brown lunch bags, Ziplocs, and individually-packaged food, what swap do you think makes the biggest impact environmentally? What is the easiest swap to make?
Psst: You may want to see some of our older tips on saving money on lunch at work (even if you're eating out all the time), what to eat when you have no time to eat lunch, and the best snack ideas for work.
So start thinking about all of the meals you could take to work and how much waste you could save by making just a few changes to your routine with these items. Or, if you have your own lunch accessories that you swear by, feel free to share with us in the comments!
Psst: hunting for stylish office lunch containers that are also eco-friendly? Some of our favorites (Sistema containers, Thermos food jars, and this classic bento) are pictured below — also check for cute lunch bags from Modern Picnic, Artelaris, Kate Spade, and Built NY! (If you're working from home, we love glass containers from Snapware and Anchor Hocking.)
This post contains affiliate links and Corporette® may earn commissions for purchases made through links in this post. For more details see here. Thank you so much for your support!
Adult Lunch Boxes That Will Blend In With Your Other Bags
If you're ready for an upgrade or just want a new way to carry your lunch on your commute, whether it's by car or public transit, we found a range of options and price points. Links, where to buy, and prices are below each image: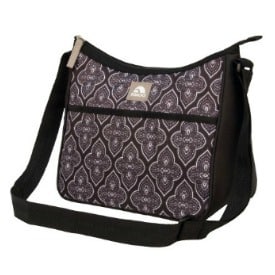 Igloo Mini Crescent Cooler Bag (Target, $9.99)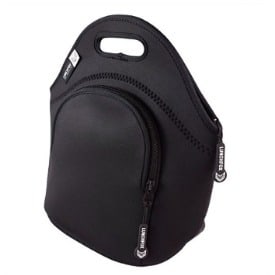 LunchFox Eco-Friendly Neoprene Lunch Bag Tote, designed in L.A. (Amazon, $19.97)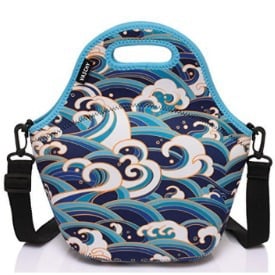 Vaschy Neoprene Lunch Tote Bag (Amazon, $13.99)
Bento Boxes for the Office
We're loving bento boxes for their minimalist look. Plus, most of them are stackable and great for meal planning when portion control is one of your priorities. Several of the containers even come with flatware, so you won't find yourself needing to keep a box of plasticware in your desk.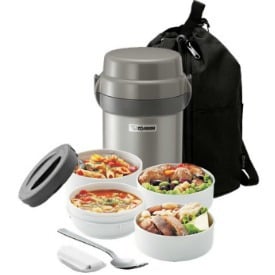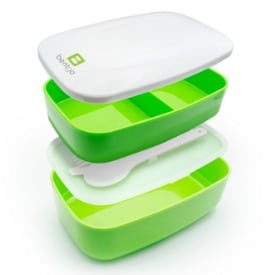 Bentgo All-in-One Stackable Lunch Box (Amazon, $14.99)
Bento boxes that come with carrying cases: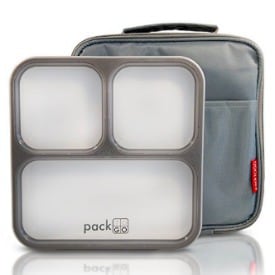 Pack To Go Leakproof Bento Lunch Box Container Set w/Insulated Lunch Bag (Amazon, $23.95)
Insulated Containers for Adults: Keep Hot Foods Hot and Cold Foods Cold
Insulated containers have come a long way since you were bringing your own cold milk or hot soup to elementary school, but the basic principle is still there: maintain the temperature of whatever is inside. (Hint: Search in sports & outdoors for more options.)
Thermos Stainless King 16-Ounce Food Jar with Folding Spoon (Amazon, $24.99)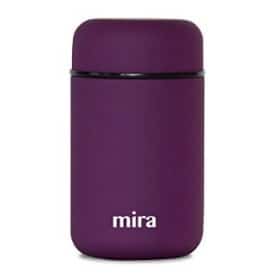 MIRA Lunch Vacuum Insulated Stainless Steel Thermos, 13.5 Ounce (Amazon, $15.50)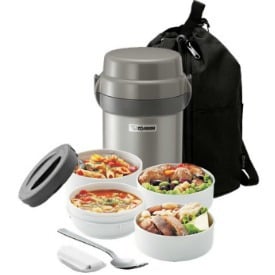 Mr. Bento Lunch Jar Set (Target, $35.49)
Ice Packs To Keep Cool
Whether you have a long commute, don't trust your coworkers when it comes to the office fridge, or if there simply isn't room for your stylish lunch bag without having to take out all your perishables when you get to work, here are a couple ice pack options –both a smaller one and a larger one — with good reviews.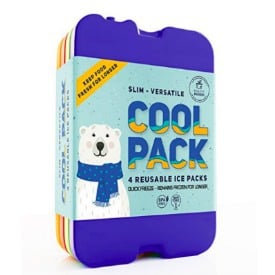 Cool Pack Slim Long-Lasting Ice Packs (pack of four, 7 x 4.7 x 0.5 inches) (Amazon, $12.99)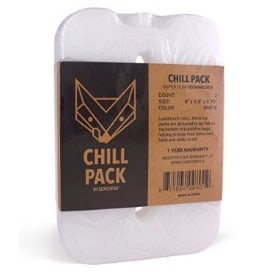 LunchFox Chill Pack Reusable Thin Ice Packs (set of two, 8.5 x 5.5 x 0.75 inches) (Amazon, $11.97)
Reusable Snack Bags and Food Wraps
If you find yourself using too many plastic baggies and don't really want to rinse and clean something that's already fairly flimsy and meant for a single use, check out these reusable baggies and food wraps.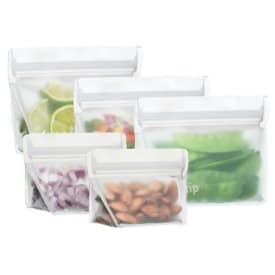 Blue Avocado Reusable Zip Bag 5 Piece, made from FDA-grade PEVA material (which is also PVC-, BPA- and lead-free) ($16.99)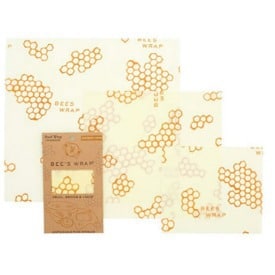 Bee's Wrap Assorted 3 Pack, Eco Friendly Reusable Food Wraps, made of organic cotton, sustainably harvested beeswax, organic jojoba oil, and tree resin. (Amazon, $18)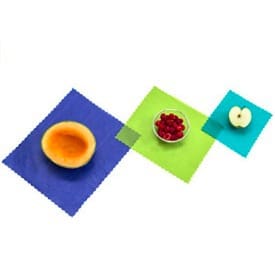 Organic Reusable Food Wraps by Etee, Pack of 3 Wraps are made of hemp and Certified Organic cotton fabric infused with USDA Certified Organic Beeswax, coniferous tree resins, a touch of non-GMO soy wax, organic jojoba oil, organic cinnamon essential oil, and organic clove essential oil. (Amazon, $17.95)
Other Ways to be Ecofriendly at Lunchtime At Work:
Many restaurants, including office cafeterias, obviously offer reusable plates, cups, and silverware if you're dining in, but if you live in one of the markets with Just Salad — Chicago, New York, Philadephia — note that they have reusable bowls for all orders, even takeout.
Other restaurants in Durham, N.C., San Francisco, Portland, Oregon, and Brooklyn are starting to promote reusable take-out containers, as well. In April 2018, the City of Berkeley even proposed a tax on disposable take-out containers.
Finally, if you need to use a straw, consider bringing your own. Many options for stainless steel, silicone, glass, and other reusable materials can be found on Amazon.
If you already use or decide to buy any of these stylish office lunch containers, or if you have other suggestions on what you already use — or if it even matters to you if you lunch bag looks professional or whether you're still rocking a Fraggle Rock lunchbox you found at a thrift store — let us know what works for you!