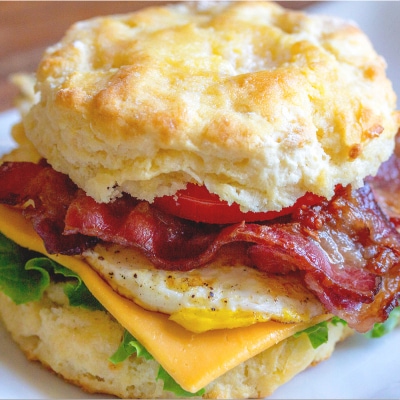 Looking through the archives, I don't think we've ever talked about this: What are your easy, warm workday lunches? Do you regularly eat out/order, cook something fresh, eat leftovers, or eat something else prepared? Which are your easiest meals, which are your healthiest, and which are your best for energy or satiety?
I have for years been one of those people who primarily eats the same food all the time for lunch: eggs. Eggs over hard. Scrambled eggs. Omelets. Egg wraps. Eggs with savory oatmeal. Egg McMuffin-type sandwiches. That said, I've recently realized eggs aren't actually that great from a protein perspective (and it's hard to get a lot of veggies even into an omelet!), so I've been trying to mix things up.
Summer lunch meals in recent years have looked a lot like basic turkey sandwiches, huge Greek yogurt bowls, and lots of cottage cheese — but as it gets colder, I find I don't want to eat those things that much. So, as we head into the colder months, I've been trying to brainstorm warm but easy meals for myself.
For me, this looks like researching affordable freezer and pantry options. Obviously leftovers, meal-prepped, or freshly made foods would be better, but I don't always have the energy or the time to do those.
(My classic move is postponing eating anything "until I work out," then realizing it's 1:00 p.m., I'm starving, and there's no way I'm getting the midday posts up if I attempt to work out and then eat.)
So, some of the easiest meals I've found are below — but readers, I'd love to hear yours!
My Favorite Frozen Meals for Affordable Warm Workday Lunches
These are all generally under 350 calories and more than 15 grams of protein; I'd supplement all of these with at least an apple. (But I also tend to have a pre-dinner snack — popcorn, beans with hot sauce, protein bar, etc.)
Tyson's Blackened Chicken: These are actually really good (and spicy). They're great on salads in the summer, or as a side to pump up the protein on another meal.
Jimmy Dean Egg Delights English Muffin: For years this has been my "bah I don't want to cook anything" meal, but they've been getting harder to find over the past few years. I like the Delights one because it has 18 grams of protein and just around 300 calories.
Lean Cuisine Vermont Mac & Cheese: I always add frozen broccoli and sometimes add chicken if I have it. They're always on sale, and you get 18 grams of protein per serving. (The other, orange mac has less protein.)
Lean Cuisine Spinach & Mushroom Pizza: This is another comfort food favorite — I almost never get to eat pizza like this anymore because the kids don't like it. I was delighted when I realized it's actually pretty good from a protein perspective.
Amy's Tofu Lasagna: I'm not a big tofu fan usually but this has been one of my favorites for a while now.
Obviously there are a lot more — I've had a lot of luck taste-wise with foods from Tabatchnick, Red's, Trader Joe's, Evol, and others, but finding enough protein to keep me full can be tricky. (I tend to avoid Healthy Choice like the plague, so I haven't tried any of them in years.) I'd love to hear what your affordable, easy favorites are!
This post contains affiliate links and Corporette® may earn commissions for purchases made through links in this post. For more details see here. Thank you so much for your support!
We are a participant in the Amazon Services LLC Associates Program, an affiliate advertising program designed to provide a means for us to earn fees by linking to Amazon.com and affiliated sites.
My Easy Shelf-Stable Workday Lunches
I've gotten away from having canned soup for lunch over the years for some reason, perhaps because my husband really likes soups, so we often do them for dinner. (And then he gobbles the leftovers before I can get to them!)
But I think this is the year I'm going to get back into the old "dump a can of soup into a bowl and nuke it," perhaps trying to "healthy it up" by adding vegetables and/or beans, lentils, or some other pre-made meat. (This bowl is perfect for the dump-and-nuke, or you can heat it at home and bring it in a Thermos jar.)
(I recently did some research on this new goal, so these are the best canned soups I've found from a protein/calorie perspective. (But I haven't tasted them!) Note that the sodium counts are incredibly high on almost all of these, so these should probably be "once or twice a week" lunches instead of daily lunches…)
Trader Joe's Organic Lentil Vegetable Soup: 21 grams of protein, 360 calories
Progresso Chicken Orzo with Lemon: 15 grams of protein, 200 calories
Pacific Vegetable Lentil Roasted Red Pepper: 14 grams of protein, 260 calories
Pacific Black Bean Kale: 14 grams of protein, 300 calories
Campbell's Well Yes Chicken Noodle: 14 grams of protein, 200 calories
(not a soup) Trader Joe's Madras Lentils: 13 grams of protein, 300 calories
(not as affordable) Trader Joe's Cioppino stew: 25 grams of protein, 200 calories
I'm not a huge fan of bone broth, but if you are there are lots of options with that.
My Easy-to-Assemble Warm Work from Home Lunches
These are going to be a bit harder if you're working with an office kitchen… For most of these, I'll set aside enough portions for a second or third meal so I don't have to go into as many places to get the ingredients.
Turkey meatballs + jarred sauce + palmini, zucchini, and/or protein pasta: The kids were big into meatballs for a while, but now no one eats them — it isn't too hard to microwave a little meal for myself.
Tortilla egg sandwiches (per Skinnytaste): These are good with pretty much any cheese or tortillas you have on hand. I tend to make mine with 2–3 eggs, turkey pepperoni, and shredded cheese, and I usually add hot sauce.
Omelets
Pizza chicken: This is a weird one that I don't do often — a few years ago I ate a ton of baked chicken breast and sometimes would treat myself by topping the chicken breast with turkey pepperoni, cheese, and pepperoncinis. I'd generally make the baked chicken in advance and just reheat it in the toaster oven (350 for 10 minutes). You can customize this…
Sheet pan wontons: I haven't tried it yet for lunch, but inspired by this NYT recipe, I would try a sheet pan meal of Bibigo or TJ wontons + meat + veg — I for some reason have a lot of turkey kielbasa so that's what in my mind. (The roasted kimchi is kind of amazing.)
Oatmeal: I would add powdered peanut butter or protein powder + frozen berries or chocolate chips depending on my mood.
Protein pancake-in-a-bowl: I just started using this Jordo's World recipe for this snack and like it; I've done it with both Birchbenders and Kodiak. I've added frozen berries and mango, as well as chocolate chips — when I added powdered peanut butter it was OK but not great. I might try a powdered peanut butter drizzle on top next time, because they do need additional sweetness and I'm not a fan of syrup. (Confectioner's sugar also works in a pinch, but then it really feels more like a treat.)
Crunchwrap sandwiches or burgers: I can never get mine crunchy enough. but if we have lavash bread I like to do a "crunchwrap" — one of my favorites is with turkey burgers + cheese + pepperoncini.
What I do with leftover rotisserie chicken: Add to soup, add to frozen bags of stir fry or "frozen cauliflower fried rice," make a lazy "chicken quesadilla" in the microwave, make a weird chicken melt sandwich (hot dog bun + cheese + pepperoncini).
Readers, how about you — what are your easy, warm workday lunches?
Stock photo via Stencil.