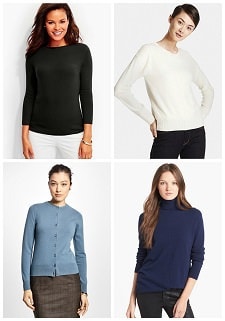 Sure, we all know what basics professional women are supposed to have in their closets, but if you're buying one for the first time or replacing one you've worn into the ground, it can be a pain to find exactly the right incarnation in stores. In "The Hunt," we search the stores for a basic item that every woman should have.
Which are your favorite affordable cashmere sweaters for work, ladies? Which ones do you reach for, for warmth, style, or comfort — and which have held up after laundering or dry cleaning? We haven't talked about this in a while, and cashmere sales are starting (Neiman Marcus, Uniqlo, Lord & Taylor, and Nordstrom all have some crazy markdowns right now) — so let's discuss.
Pictured at top, clockwise: black / cream / navy / blue.
Pictured below, some of our Hall of Famers: boatneck / crewneck / turtleneck / faux wrap / turtleneck
Before we get to our featured cashmere sweaters for work for today, let's talk about some greatest hits: