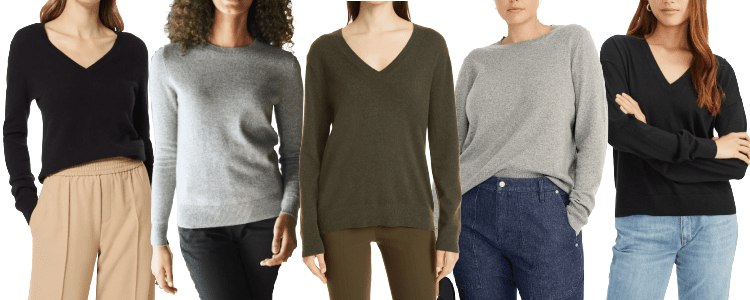 Sure, we all know what wardrobe essentials for work professional women are supposed to have in their closets, but if you're buying one for the first time or replacing one you've worn into the ground, it can be a pain to find exactly the right incarnation in stores. In "The Hunt," we search the stores for a basic item that every woman should have.
We haven't done a roundup on cashmere sweaters for work in a long while — which are your favorites right now? If you work from home part of the time, do you find that you're wearing them more with jeans at home?
In terms of the "warmest sweaters for work" category, I still think it's a fight between merino and cashmere. Both can be itchy if they're on the less expensive side, but cashmere done right is super, super soft.
(Pro tip — if you wear a t-shirt, tank or camisole beneath your sweaters they will not only be more comfortable but you can go longer between washing or dry cleaning them — we'll put our favorites at the end of the post!)
This post contains affiliate links and Corporette® may earn commissions for purchases made through links in this post. For more details see here. Thank you so much for your support!
Some Of Our Hall of Famer Cashmere Sweaters for Work Outfits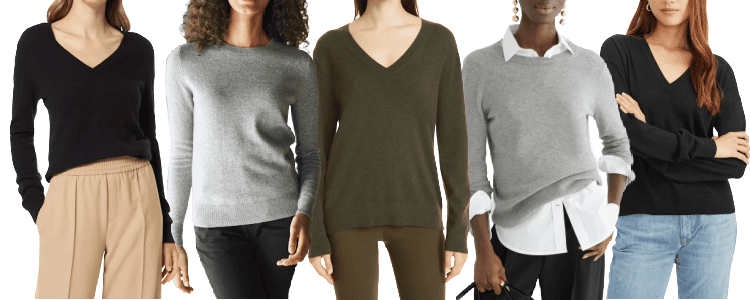 The Best Affordable Cashmere for Work: Reader Favorites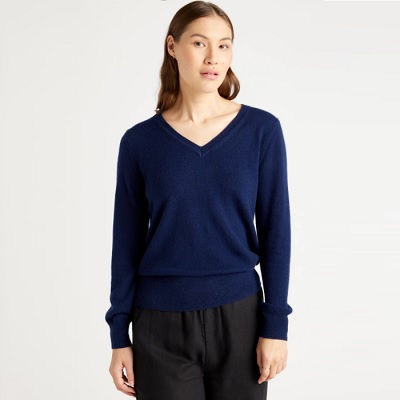 Quince's sweaters are generally $50, and available in a TON of colors – the crewneck has 15 different colors in stock right now. They're available in sizes XS-XL.
Naadam makes more expensive cashmere sweaters, but their Essential $75 Cashmere Sweater keeps winning accolades for its affordability, quality and construction. They have a TON of "core" colors (mostly neutrals), but also have brighter limited edition colors.
Their sweaters are available in sizes XXS-XXL, and (you'll be shocked to hear this!) they cost $75.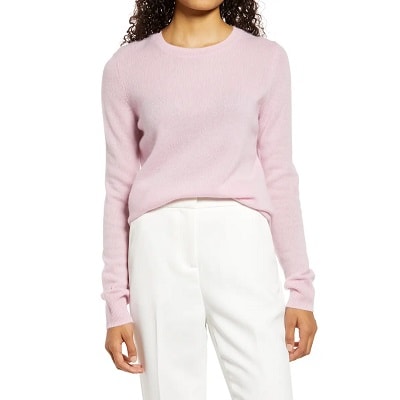 Nordstrom's cashmere sweaters are crazy affordable because they're a store brand, super soft, and they come in a ton of colors. And when they go on sale it's awesome!
The crewneck is currently $80 (down from $130), available in sizes XXS-XXL; the cashmere V-neck is even lower than that. They both have about 12 different colors available.
The Best Cashmere to Splurge On
For as long as I can remember, TSE was one of those brands to covet for amazing cashmere. As they note on their website, "TSE (pronounced "say") was founded in 1989 with the intention of redefining the use of cashmere and altering the perception that luxury has to be traditional. … TSE has become a leader in taking a modern approach to cashmere."
Their collections include recycled cashmere (such as the one above), as well as TSEessentials (relatively affordable, thin cashmere basics like turtlenecks).
Their more basic weaves are generally under $400; the ones with more intricate weaves are more expensive to start. The cashmere sweater pictured above was $795 when new, but is currently marked to $477 at Neiman Marcus; it's available in S-XL.
(Neiman Marcus actually has a bunch on sale; so does the TSE website.)
Brora is a brand readers have sung the praises of over the years — as they note on the website,
We're known for our lavish knits and believe this one is a match made in heaven! Our incredibly soft funnel neck combines cable knit and moss stitch details in its design and comes in three gorgeous seasonal shades. This jumper, made in Scotland from luxurious, cosy cashmere in one of the country's oldest mills, will be a newfound favourite in your collection and a truly worthy investment piece!
I love the intricate design on 6-ply gray cashmere turtleneck, currently on sale on the website. It was $839, but is now marked to $509.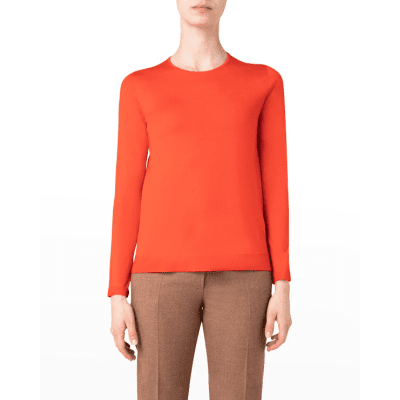 Readers have also sung the praises of Akris sweaters over the years — some readers have particularly had good luck with the resale market for sweaters.
I'm intrigued by this "seamless" cashmere sweater (pictured), available in the bright orange poppy and a darker blue.
It's$1290 at Neiman Marcus.
Like this feature? Check out other recent installments!