This is the first in a new occasional Wednesday feature where we explore weekend-wear more in depth.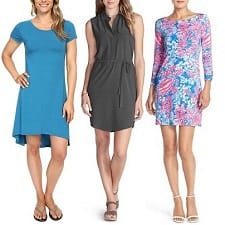 I wouldn't wear any of these to work, but if you're on the hunt for a packing-friendly, easycare dress for any upcoming summer travel (or, hey, just brunch or other weekend activities), I thought we'd round up a few. I like that all of these are able to be dressed up and down — wear them with flip flops and a beach tote one day, with a nice necklace, clutch, wrap and fancier heels the next. The plus-size option from Travel Smith is even four dresses in one — two necklines and a reversible fabric! Ladies, do you have any favorite travel dresses, or favorite adventure clothing companies? What is your must-pack item for every vacation you go on? 
Pictured: Woolrich / Eddie Bauer / Lily Pulitzer.
(The full roundup is after the jump!)