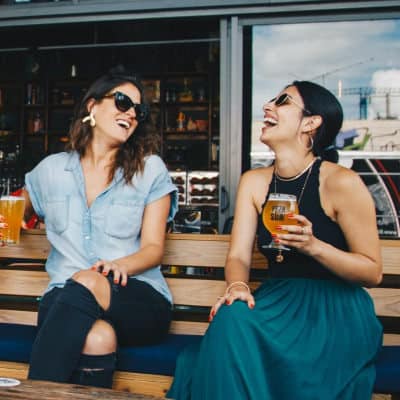 I know we just discussed the effect friends have on your life a few weeks ago, but I thought friendship tiers and theories would make a really interesting discussion: How do you define tiers of friendship? What is the difference (to you) between a close friend and an acquaintance, and how has that changed for you over your life?
Recently I saw an interesting article in Vox about "why 30 is the decade that friends disappear, and this is what you can do about it" — and it contained one woman's friendship tiers:
First come acquaintances, people I can recognize and say hi to at yoga class, cookouts, church, that kind of thing. Then I start to connect with some casual friends, people I can do coffee dates and see movies with. Once we reach a point where we don't have to make plans in advance — where we're comfortable enough to do nothing together and I can just text that I'm on my way — that's when I've made a close friend.
I immediately texted Kate to note that I disagreed with that "just text that I'm on my way" level — as an introvert, I haaaate when people CALL without a specific purpose (or, frankly, without us having agreed to have a call at X time — because I am crazy). If a good friend were to just show up at my door, I would be like, "Hi! Are you in dire need of a bathroom? Are you injured? Can I help you in some way? No? OK nice seeing you let's get together soon!" But again, I'm kind of an extreme introvert. It's particularly interesting to me because some of the people I consider my best, closest, soul-sister type of friends aren't necessarily people who are in my orbit on a regular basis — they're those people I maybe haven't seen in nine months (or longer) but we talk for four hours straight without stopping when we do see each other. So for me, my friendship tiers look more like this: