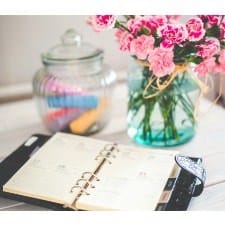 2017 Update: We still think this is a great discussion of how to find the best planner, but you may also want to check out our latest discussion on our favorite office supplies.
We've gotten a few requests for a post on how to find the best planner for you — and I know the readers have been talking about it a ton! — so I thought we'd have a post today. How do you find the best planner for you? Reader J asks:
Can you do an update on the perfect planner post from 2012? I find that I need to use Microsoft Outlook for my corporate calendar to keep in sync with work commitments and colleagues. I dabbled with the Bullet Journal but couldn't make that work and yet I feel like I need/miss the writing down aspect of using a paper journal.)
In our older post, readers recommended Levenger Circa, Staples Arc, Filofax, Russell + Hazel, Quo Vadis, Moleskine, Cavallini, Planner Pad, Exacompta 24, Erin Condren Life Planner.  In addition to those, readers more recently have recommended the Bullet Journal, ShePlans planners, and the Simplified Planner. I'm still figuring out my own system, so I can't wait to hear what recommendations you guys have today!