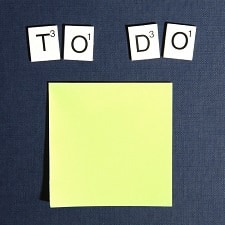 How do you keep track of different task items at work, readers? What are your best tips for how to keep track of work to-dos? Reader E wonders…
I would love a post on how people keep track of work to-dos. Do people write down their assignments on their calendars, keep a paper to do list? Some other system?
Great question, E! We've talked about different tools for time management, how to organize your office, as well as how to choose a great planner, and how to find a system like Getting Things Done, but I don't think we've talked about how to keep track of different work to-dos. My own system is kind of simple (she said, preparing multiple bullet points) — OK, it's not terribly simple, but it KIND of works for me. I could definitely improve, though, so I'm curious to hear what works for you guys!
Here's the best ways I've found to keep track of work to-dos (and to-dos in general):
Affirmatively pick 3 things that need to get done that day. This sets you up for success each day, as well as helping you break big tasks into smaller pieces, and helps ensure that the important things get done first. (If it's a challenge figuring out what to do first, look into the Eisenhower Matrix… there are other similar systems, including another matrix that I think is associated with the Folio planners, possibly, but I can't find a good link right now.)
Brain dump. I tend to have a thousand little thoughts roaming around my head at any given moment (I joke that I'm one of those people with 72 tabs open in my brain) and they often interfere when I'm trying to focus on whatever task is at hand. So I like to take a piece of scrap paper and brain dump as much as possible into several lists: personal, business, and delegateable. As I go through my tasks, when any little thought comes into my head, I just scribble it on the paper and move on.  At the end of the day I try to delegate what I can, and assess priority/steps involved for the other things I scribbled down throughout the day.  I'm a big believer in batching tasks that are similar, such as calls, errands, low energy tasks (like researching or light reading), or "2-minute" tasks (where "it'll just take 2 minutes"). Where possible, I keep a master list of tasks to do based on these brain dumps.
Keep action items from meetings. Something I've done since my lawyering days has been to take a Post-It with me to meetings and keep track (separately from my meeting notes) what action items needed to be done after the meeting — I still do this today with meetings and phone calls. At the end of the meeting I can quickly see what needs to be done, who's said they'll do it, and, hopefully, by what time — these action items will be ultimately added to the master to do list.
Automate what you can. I've written before of my love of Remember the Milk, and I still use the program to try to keep track of different things — particularly recurring to-dos. If you need to check in with a client once a month, add it to a to do list — if you need to get your billables in by X date, add it to the to-do list. You can also do this if you prefer a paper planner method. (Personally I tend to only use Evernote to keep track of articles I might want to find again (other than recipes or more visual things, which is how I personally use Pinterest) but a lot of people like to use Evernote for planning/action purposes.) If you're someone who loves to use Siri to boost your productivity, I believe the ToDoist app works with Siri (and Alexa, although possibly with the help of an IFTTT recipe).
I've always experimented with "inbox to-do list" methods (where the only stuff in your to do list is stuff that you need to respond to) as well as folder methods (like GTD) — as well as, for lack of a better term, "category" methods (for example, I know that at any given moment for the blog I ought to be thinking about 7 or 8 different categories of things, from new content, advertising, tech issues, refreshing/using old content, answering emails, etc) and in theory I should have balls in the air for each of those at any given moment or have delegated balls to be in the air for each of those at any given moment)… but, well, those methods haven't been that successful for me; only the stuff in the bulleted list has worked for me to keep track of various work to-dos.
I'm curious to hear about you guys — especially people who have 10,000 clients, projects, bosses, and more! What do you do to keep track of work to-dos? Do you take pleasure in crossing things off on paper or clicking a little bubble that makes things disappear? Do you also move to-dos from list to list? How do you keep track of work that you've delegated to others? What system to keep track of work to-dos works the best for you?