Update: Hunting for the best work backpacks? Some of our favorites in 2023 are below — see the full post for all the details!
The Overall Best Work Backpack
The Best Convertible Laptop Backpack
The Best Affordable Backpack for Work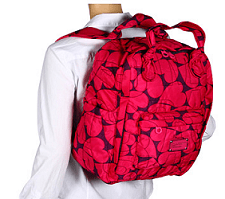 What is the best bag to carry if you walk to work? Reader A wonders…
I've had a bag dilemma for years and though this venue might provide a solution. I thought perhaps someone out there might have found the holy grail of bags to address the following issues, and I'm sure others are looking for the same. I would certainly love a post on this. I'm a lawyer and I walk almost two miles to work everyday.

Here's what I'm looking for:
– Big enough to carry folders, papers, occasional laptop and occasional change of clothes
-Color-neutral enough to be worn with anything for everyday use
-Professional looking
– Comfortable to carry long distances, such as a cross-body style with comfortable strap. Maybe a backpack style?

Does such a bag exist? I sure hope so.
I've always loved walking to work, and I've regularly schlepped about that distance. While there are so many benefits to walking to work (fresh air! clear head! some exercise!), I do feel like I've done some serious damage to my body from walking so much.
For example, whenever I get massages, the masseuse always comments on the huge knot on my right upper back (where I usually carry my bag), and I honestly blame the first few years of walking to work (back in the days when I wore Steve Madden 3″ stacked heels regularly — for the 2 mile commute!) for the feet problems I have now.
(I suppose there's another post idea there, but my secret belief is that feet problems are like dreams: no one else wants to hear about them.)
So: I gotta say that Reader A may be asking for too much. A laptop? A change of clothes? This all seems like a lot for a regular commute, and probably the smart advice to her is to find another means of transportation if she has to carry so much. That said, on the rare occasion where I wanted to carry a computer or a change of clothes, I suppose I could have fit a super-lightweight, small laptop into my bag, and I also could have possibly fit a pair of jeans (for a night out) — but not both, and certainly not with a change of shoes.
This post contains affiliate links and Corporette® may earn commissions for purchases made through links in this post. For more details see here. Thank you so much for your support!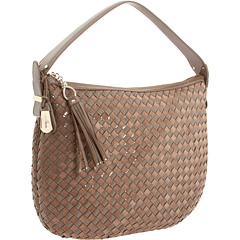 For the past few years my bag of choice has been a large hobo. I've found that a single strap is a must (it stays on your shoulder better than two straps), and a good bag that has pockets keeps your phone, ID/subway pass, and lipgloss close at hand.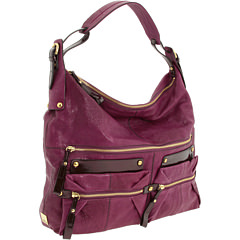 My all-time favorite is a Cole Haan hobo (I have 3 or 4 of these — I had to put a moratorium on myself! They're all similar to the greige one pictured. I also like my my Kooba hobo (similar to the pictured purple one).
They generally fit all the stuff I keep in my bag, with space for an extra pair of shoes if I need to carry them, or perhaps the laptop/change of clothes that Reader A is dreaming of. Keep in mind, I'm not saying this is the smartest choice — I'm just saying, this is the kind of bag that I found worked best for my commutes.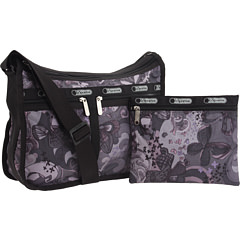 If we're talking smart choices, though, you probably do want a crossbody or a backpack, to better distribute the weight; you might also want to look for a lighter fabric bag (such as a nylon) instead of the leathers and canvases that I always prefer.
I might point you to a LeSportsac Everyday bag (pictured), which has been my gym bag for years, and is now my favorite diaper bag. I vastly prefer my leather hobos for style, but the Everyday bag can't be beat for being lightweight and well organized.
I might also point you to the Marc Jacob nylon knapsack — it's pictured at the very top of this post in pink iris
, but it's also available in black
. LeSportsac also makes a nylon backpack, as does Tumi.
My personal $.02 is that fashionably speaking, the backpack is kind of at the bottom of the pile — but sometimes you have to be kind to your body and prioritize comfort above fashion.
These are some interesting products to help you cool down or stay cool on your commute… see more clever products like this in our Amazon shop!

Readers, do you walk to work? What bags do you carry? Have you developed any "best practices" for commuting?
We are a participant in the Amazon Services LLC Associates Program, an affiliate advertising program designed to provide a means for us to earn fees by linking to Amazon.com and affiliated sites.