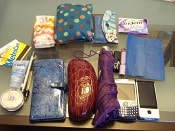 I've noticed that a lot of bloggers have done "What's in your bag" kind of features, so I thought I'd start with my own bag. So, above, a snapshot of the contents of my purse…
I switch bags often, so I try to keep things to a minimum, I guess. Depending on which bag I'm carrying at the moment, I may also have a small notebook, a small book, a hat, a second sunglasses case, or other reader material like a folded-up wad of about 50 printed pages or so.
I also like to have brightly colored things inside my purse, so I can find them and differentiate them easily if it's a big, dark bag. Anyway, here's a closer look at the contents, starting clockwise from the upper left-hand corner…
– A Metrocard and my security ID for my day job.
– Pack of tissues. (Hey, I think we all knew I was a little bit snotty.)
– I call the blue-dotted cosmetics case my "problem case" because I don't really open it unless I have a problem. This contains a pillcase with Advil in it, more medicines that come in take-one-at-a-time-do-not-tamper packs (like Claritin), a few Band-aids, a small bottle of hand sanitizer (which I refill using a bigger one), a few packs of Emergen-C
, and tampons, as well as a few I-never-need-them-but-they're-handy-when-I-do packets such as Shout Wipes, Wet Ones, Basis facial cleansing cloths
, Oral B Brush-ups
, and toothpicks.
Finally, I keep a really small plastic bag that contains two sets of earplugs, which have "R" and "L" marked on them in different colored ink — they have come in handy in those joyous circumstances where you find yourself seated on a four-hour flight right behind a crying infant, or in those "concerts didn't always used to be this loud" moments. (I have two on the theory that I can offer one to my husband or brother, who comes with me to a lot of concerts.) I find that all of this stuff gets lost/destroyed if I leave it in my purse by itself, but is fine in the smaller cosmetics case.
– An Etsy card case. I keep my Corporette cards and the cards for my day job, as well as gift cards, card-shaped department store coupons, and so forth.
– A pack of gum.
– The dark blue envelope is my "receipts envelope." This is where I stash taxi receipts, restaurant receipts, and so forth that can be deducted as business and networking expenses. I write the reason on the back of each receipt, as well as keeping a running tally on the envelope itself. I try to keep all blog expenses to my business card, but if I end up paying for a cab in cash then I circle the amount, and if I end up paying with one of my personal cards I put a square around it. At the end of the month I assess the receipts, circles and squares, and make sure that any business expenses are reflected in Mint. Yes, I am insane. I use the dark blue envelope because we bought a pack of them for $2 to mail our Save-the-Dates for our wedding, and we have a ton left over.
– Lipgloss and lipstick of the moment (Nars Canaille).
– Sony Bloggie
. I got this at an event a while back, and like it enough to carry it with me — it focuses like nobody's business, and takes great pictures and movies, provided there's enough light. (It doesn't have a flash.)
– Treo. Sigh.
– Super teeny Totes umbrella that I picked up at Staples one day (I think it's also available at Amazon
.)
– Sunglasses case.
– Wallet. I keep my credit cards, debit cards, insurance card, license, living will card, and blank checks to 3 different accounts. (When I take a check to put in my wallet I put the entry in my checkbook in parentheses, and then fill in the amount after I use the check or, more usually, see it cashed on an account statement or in Mint.)
– 2 pens.
– Tiny Curel bottle. I'm addicted to Curel, I swear.
– And finally: a super duper old compact. I should probably be embarrassed about this one, actually — it's so old that they've stopped making the product. I don't use it very often (obviously) but have bought new powder puffs to put in there.
Readers, what's in your bags?