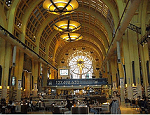 Continuing our series of the best places to shop in other continents (we've done Europe and Asia so far), I thought we'd talk about where to shop in Central and South America today. I've heard Buenos Aires described as the Paris of the South (and Lynn Yaeger certainly had a fun time there in this 2008 Travel + Leisure article) — where else are the hot spots? (Do you agree with this Trip Advisor article?)  The main questions:
– Which are the best cities for shopping for professional clothes?
– Are there specific stores (or brands) that one should keep an eye out for — either for professional clothes, shoes, bags, or jewelry (or other generally amazing stuff)?
– What else should women know before planning a trip to the general area?
– Any other reader favorite spots — great restaurants, bars, sights, or more?