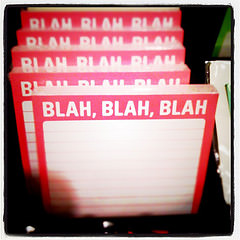 2017 update: We still stand by our advice below on how to get your work done with a chatty boss — but you may also want to check out our latest discussion on how to deal when your assistant talks too much.
How do you get any work done when your boss is a Chatty Kathy? Reader K is having some trouble adjusting to her new boss's management style…
I have recently switched jobs in the legal profession and am having trouble adjusting to the management "style" of my new boss. My previous supervisor was a hands off type of person, to whom I spoke only sparingly when necessary.

My new supervisor is the total opposite. He is very chatty about everything under the sun and if I am not careful he will consume half of my time (literally) during a given work day to chit chat, mostly about non-work related topics. I end up zoning in an out of listening and am afraid I will soon start pulling my hair out due to the unproductive nature of our interactions!

I pride myself on being very productive and am having trouble adjusting. What advice might you have for my situation?
Wow — great question. I particularly see this management style more in smaller offices where everyone is friendlier just because they're working in close quarters — but it can happen in big offices, as well. Especially when you're the newbie, you don't want to be unfriendly — but you also want to finish your work and get out of there at a reasonable hour. We've talked before about how to discourage chatty coworkers, but we haven't really talked about how to deal with it when it's your boss. (Pictured: Blah blah blah, originally uploaded to Flickr by theunquietlibrarian.)
1) Observe how other people in the office interact with him. What do your colleagues do? Do they walk away? Limit their interactions with him? Or do other people work longer hours than necessary to get all of their work done? I might even suggest, very gingerly, approaching one of the people you're friendlier with in the office, and asking his or her advice (avoiding a complaining, gripey tone at all costs).  On the other hand, if he's just targeting you for these conversations… look at the situation.  My guess would be that it's totally harmless, human behavior — you're the new person and therefore more interesting; you're also more likely to indulge him and listen to his stories and opinions because you're still being polite.  That said, there is a slight chance that this is more nefarious in some way — is he hitting on you?  Making some power move to show you that he's the Boss of you and your time?  That's not the sense I get from your email, but I thought I'd throw that out there as well.
2) Look at your own side of these interactions — are you sharing stories as well, or asking questions that prolong these conversations? It's natural in conversations to want to share stories on equal terms, but nothing prolongs conversations more than that!  Laugh at the joke, offer sympathy to whatever gripe, and maybe (depending heavily on the situation) offer advice — but don't come back with your own story!  If he gets on a tangent, can you move the conversation towards the end by saying something like, "I've got to get back to work on Project X, but remind me to tell you sometime the story of Y."  Similarly — particularly if he's voicing opinions about politics or religion — you can try noncommittal phrases like, "Huh, I'll have to think about that."
3) If he's in your office, use the "walk and talk" move to get him out of your space.  Get something from the printer or suggest you both grab coffee in the coffee room — but keep him from getting cozy in your visitor's chair. If you constantly find yourself trapped in his office, I recommend scheduling meetings with him only before other scheduled work obligations.  For example, schedule a 20-minute meeting 45 minutes before you have to leave to take a client out to lunch.  You can also observe his practices (he goes to lunch every day at 12:30, on the dot) and schedule meetings closer to this time.  If he's catching you unawares in the coffee room or some other public space, consider bringing your own coffee or otherwise avoiding the public space for a while.
4) Maximize your productivity by knowing your most productive times.  If mornings are great for you, protect that time — don't let him schedule meetings, and if he asks a question that turns into a thing, don't feel bad about saying, "I was right in the middle of this thought — do you mind if we pick this up later?"  On the converse, if you know you have a consistently unproductive time (such as early afternoons), take advantage of that slump time to schedule a meeting with him.
Readers, how do you deal with chatty bosses?  What other management styles do you find challenging, and how do you deal with them?