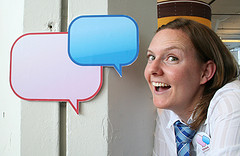 Update: We still stand by this advice on how to discourage chatty coworkers, but you may also want to check out our more recent discussions on how to deal when your assistant talks too much, or how to get your work done with a chatty boss.
Reader J wonders how to discourage a chatty coworker…
I just started as a law clerk at a state appellate court in September 2011 and work with two other lovely clerks, both of whom have been with the Judge for at least a year. One of my co-clerks is very nice, but I sense that she is sort of a lonely person outside of work, and as a result, takes many opportunities to chat with me for long periods of time. She will stop in my doorway or plop down in a chair in my office and talk for 30-45 minutes, sometimes even more than once a day.

This doesn't affect her getting her work done, because she frequently takes work home with her and comes in on the weekends. However, I like to work hard during the day and leave my work at the office.

I haven't been at my job very long and still feel like I need to prove my worth to my Judge–I would like to make this a 2-3 year clerkship. I'm worried he will hear and see us chatting and think that I'm not a hard worker.

Without being rude, is there anything I can do to make sure her chat sessions don't go on so long?
This is a great question. I used to work with a girl who would "drop by" my office and stand in the doorway, chatting about everything from her boyfriend troubles to her work questions to her shopping adventures.
I remember sitting there feeling completely trapped and seeing the day (and work) stretch out before me the more she yammered on. I've had a lot of chatty coworkers through the years, but this situation was the worst because I genuinely liked her and wanted to hear everything she was saying — just not right then.
Some of my top tricks for getting your work time and your gossip time better synchronized:
"Book" time with her later to show she's important to you. "I have so much work to do, but I really want to hear what you're saying! Let's [insert fun activity here — get a drink, get a manicure, go for a walk] at 5:00 today, ok?" This will sometimes work, but what may happen is she'll say, "Oh sure, that sounds like fun! Like I was saying…" and continue on.
Get her out of your space. Print a document to the communal printer, grab your wallet and make her run an errand with you — whatever works for you. Just don't bring her back to your office. Stand in the hallway, or outside the ladies' room, or in the elevator banks, until she accepts the fact that you can't listen to her talk any more.
Be stern. This is another option, and one that I have used a few times when there was a guy at the office who seemed to have a crush on me. (I might also use it if I really disliked the coworker.)
Here's what you do: don't smile. Don't raise your voice — instead, lower it so you're speaking more quietly. Continue what you're doing — if you're writing, keep your pen in your hand, or your face half-turned to your computer.
Say clearly, slowly, and quietly, "I'm really busy right now and don't have time to talk to you. Sorry about that." And then turn back to what you're doing. It may take a few visits of complete non-friendliness for the coworker to get the picture, but they will eventually.
Readers, what are your thoughts? How do you discourage chatty coworkers?
(Pictured: Speech Bubble, originally uploaded to Flickr by illustir.)