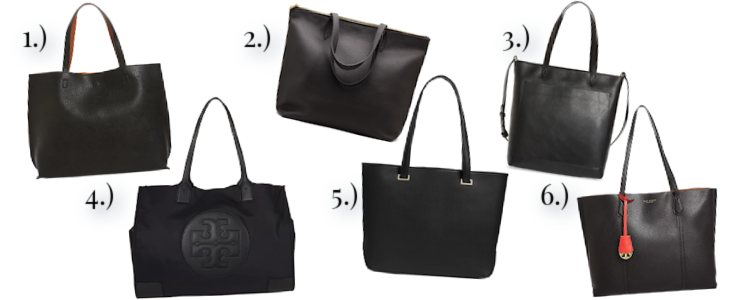 We got this request in from a reader, and thought we might resurrect an old feature — The Hunt — in which we look for a great basic, available now, in a variety of price points. Here's the request:
As an incoming summer associate at a large NY firm, I've been wondering – what kind of bag would be appropriate? I've been told that Longchamp is too casual, and would be interested to hear your thoughts on it. I don't want to break the bank before I've even made my first paycheck, but would like something nice and versatile that will last a long time. Any thoughts would be appreciated!
We would actually disagree with that — we think Longchamp is fine for a big tote bag. It's functional (fits a ton of papers), is made well (is strong enough to carry a ton of papers) and — especially if you get the black on black versions available in Canada or at the physical stores in New York City, quite appropriate for work.
However, it's a bit doubtful that a) you'll HAVE that much paperwork to lug around over the summer, and b) NEED to lug that much paperwork with you to or from work functions like lunches and client meetings. For your purposes as a summer associate, you should be on the hunt for a purse large enough to hold a notepad (preferably legal-sized), but not so huge that you can't tuck it under your seat at the work-sponsored theater outing.
Ideally, look for something with multiple compartments — you should be able to zipper up your personal items like make-up and feminine supplies, yet find your pens and phone quickly.
You'll also want something fairly sleek — something you can wear over your shoulder (leaving your hands free for cocktails and hors d'oeuvres, of course) yet keep close enough to your body that you won't run the risk of knocking other people's cocktails out of their hands. We've looked for bags in black, which can be worn with any color; if you wear less black you may want to look for a bag in white or brown. Leather looks nicer, but canvas or nylon is much, much lighter.
The current trend seems to be for bags that are more vertical than horizontal; if you get one of these we'd suggest having anything you might need quickly (lip gloss, pen, business card) in your jacket pocket rather than the bag so you don't have to dig through it — nothing's more unprofessional than being up to your elbows hunting around your bag.
That said, it can be challenging to find this ideal bag, particularly in a reasonable pricepoint. Our first line of attack would probably be to try discount stores like TJ Maxx, Filene's, and DSW.
Update: here our latest work totes — perfect bags for summer associates!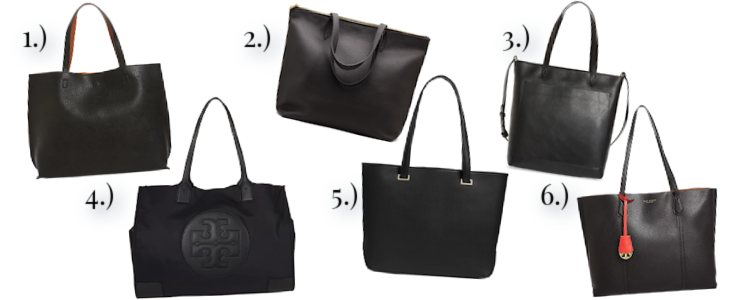 (Alas, many of the below products may be sold out — but they should give you a further idea what to look for….)
| | |
| --- | --- |
| | We like the size and unique look of this black tapestry fabric bag with leather trim. We like that there are three big compartments inside the bag, as well as multiple zippered pockets (and a spot for your cell phone!) Originally $120, currently $96 at eBags.com. Green Street Designs Handbag Sierra Madre Black Tapestry Tote Black |
| | |
| --- | --- |
| This one is slightly more expensive, but looks more standard and has a bit of a designer name attached to it — Ben Sherman's briefcase. The 9″ straps are definitely big enough to put over your shoulder; we also like that it has feet, so you can set it on a restaurant's floor without too much fear. We wish it had more by way of internal compartments, but it'll do — especially given that it's only $109 at Endless.com. Ben Sherman Nylon Hold All Briefcase (See more Ben Sherman bags at Amazon.) | |
| | |
| --- | --- |
| | Don't be too alarmed by the neon orange — the bag also comes in a slew of other colors, including black. Again, we wish this came with more interior pockets, but we like the size, the lightweight nylon, as well as the leather accents. Available at Nordstrom.com for $325. kate spade 'union square – simone' satchel |
| | |
| --- | --- |
| We've heard great things about the Foley + Corinna tote — we particularly like that it can be used as a regular purse when you don't need to carry papers with you, but it converts to a North/South tote if you need the space. Available at ShopBop for $444. Foley + Corinna Supple Mid City Tote | |
| | |
| --- | --- |
| | We've been fans of Kooba bags for a few years now — the leather is so supple and the bags are thoughtfully designed — to wit, interior pouches and pockets abound here. We particularly love that the Natasha bag expands via the twist-lock flaps on the side. Was $645, now $452 at RevolveClothing.com. Kooba Handbags Classic Natasha Bag in Black |
| | |
| --- | --- |
| We featured this one in blue a while back for one of our TPS Splurges, but we thought we'd mention it again in black. We like that this one is definitely contained — it's just big enough for a notepad and your personal items, which is perfect. It's available at Neiman Marcus for $995. Marc Jacobs Casey North-South Tote | |
| | |
| --- | --- |
| | Hello, gorgeous. If you're in the mood for spending your first paycheck (and then some!) on a bag, we present to you: the Nancy Gonzalez crocodile-skin bag, also available in black. Available at Neiman Marcus for $3,650. Nancy Gonzalez Croc Tote |