Sure, we all know what basics professional women are supposed to have in their closets, but if you're buying one for the first time or replacing one you've worn into the ground, it can be a pain to find exactly the right incarnation in stores. In "The Hunt," we search the stores for a basic item that every woman should have.
A pencil skirt will always be a staple piece for a working wardrobe — but it often takes a bit of hard work to find office-acceptable A-lines and flouncy skirts. I'm seeing a ton of them recently — including lots of mini versions, some dramatically wide, some leather, some even more exotic materials. There are, however, a few out there that are office acceptable, though, and they seem so ladylike and fresh, particularly if all you've been wearing for the past few years have been the more form fitting pencil skirts. Lovely (so long as you don't wear it like this). Readers, do you have strong opinions on the A-line/flouncy skirt look for work? Have you bought any great ones recently — and what are you wearing them with?
This one is the best of both worlds, I suppose: a pencil skirt with flounce details at the bottom. Even better: this highly rated, 22″ skirt is on sale today, with lots of sizes available in both black and red. It's $29.90 at The Limited. Ponte Flounce Pencil Skirt
I love the little pleats at the bottom of this one — when in motion it's going to have a flouncy effect, but when just standing still it looks almost like a pencil skirt. It was $89, but is now $49 at AnneKlein.com (sizes 2-14). Platinum Pleated Skirt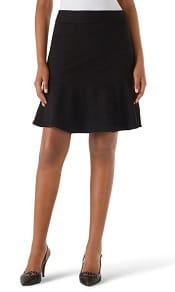 I was interested to see that White House | Black Market has a whole line of "flirty" skirts (in regular and petites) that have a fit and flare look to them. This 20″ skirt is $88, and available in sizes 00-16. Ponte Flirty Skirt
At 19″ this lovely Lyra skirt from DvF may be a bit on the shorter side, but of course it'll fit everyone differently depending on your height. I love the way it moves in the video. It's $245, available for pre-order at Saks in sizes 0-14. (See also: this gorgeous flared skirt with blue accents.) Diane von Furstenberg Lyra Fit-&-Flare Skirt
Theory delivers with a very loose silk georgette version at a respectable 21″ — I love the knife pleating and am intrigued by the frayed hem. It's $265 at Saks, available for pre-order in sizes 00-10. Theory Alcine Pleated A-Line Skirt
I know, I know — this isn't a black flouncy skirt — but it COMES in black (I'm 99% sure this is the same skirt over at Bergdorf Goodman, but without a single good picture focusing on the skirt). I like all of the things that I like about our more budget-friendly picks today, but I see this one as the one most likely to stand the test of time and last for more than a few seasons.  It's $395 at Nordstrom in "barley" (pictured) and at BG in black. Ruffle Hem Skirt
Like this feature? Check out other recent installments!