2019 Update: We still stand by this roundup of colorful sheath dresses — but you may want to check out our most recent discussion of the best dresses for work!

Sure, we all know what basics professional women are supposed to have in their closets, but if you're buying one for the first time or replacing one you've worn into the ground, it can be a pain to find exactly the right incarnation in stores. In "The Hunt," we search the stores for a basic item that every woman should have.
We're heading into prime sheath dress weather right now — not only is it great for layering in spring (beneath blazers or cardigans, or occasionally on top of blouses), but it's a workhorse in sticky hot summers. I actually meant to write about black sheath dresses (especially since I'm in the market for one myself) but was so unexcited about all of the black sheath dresses, and instead found so many great colorful sheath dresses, that I thought I'd feature those instead. Readers, have you gotten any great sheath dresses recently? Have you bought any colorful sheath dresses in the past that became favorites?
(Psst: if you like the picture at left, please consider Pinning it on Pinterest! You can follow me here.)

Ann Taylor is having a 30% off sale on full-price dresses, which makes this rayon/spandex machine-washable blend one of the least expensive. I like the color ("Riviera" is pictured, but it's also available in a lighter blue/green and black) and the knot detail. It was $98, but with the discount it comes to $68. Twist Knot Dress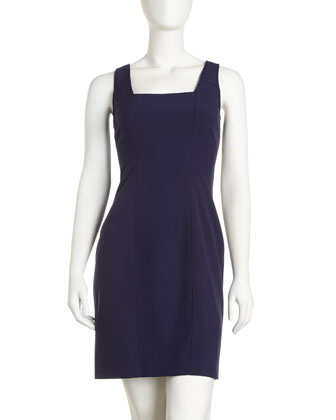 I know there are many who hate the "exposed zipper" trend, but if you're not in that camp, this could be a great purpley/ink dress. I particularly like the square neck — perfect for beneath blazers. It was $138, but the price comes to $93.75 with the 25% off sale going on at Last Call. Marc New York by Andrew Marc Square-Neck Sheath Dress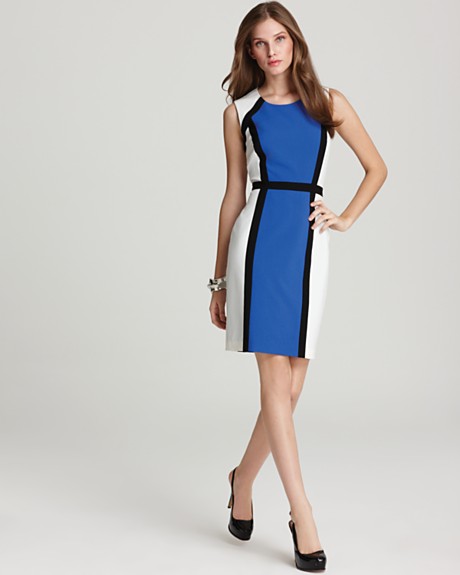 Of course, there is a Mondrian-inspired colorblocked dress from Calvin Klein. I like that it's available in regulars, petites, and plus sizes for $129.50-$139.50 at Bloomingdale's. Calvin Klein Color Block Sheath Dress
This one is actually my favorite, even though I know from experience the color would make me look absolutely ill. But I love that textured fabric (going in two directions!), the diagonal cut-out, and, apparently, patterned lining. Lovely. It's $169 at Lord & Taylor. KAY UNGER Diagonal Cut-Out Sheath Dress
Gooooorgeous dress from Diane von Furstenberg. I think the asymmetrical seams across the bodice are both interesting and flattering, and the "sailor blue" color makes me hap-hap-happy. It's $325 at Saks. Diane von Furstenberg Jori Day Dress
Like this feature? Check out other recent installments!