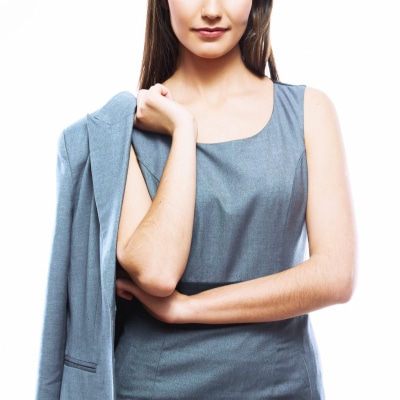 This page was last updated May 2023 except where otherwise noted.
Reader M had an interesting question about where the heck to find suits with dresses (instead of skirts or pants) these days. It's a great question: where can you find a great suit dress these days?
Here's her question:
I'd love an article on buying suits that are dress + jacket combinations (as opposed to skirt/pants + jacket combinations). They look a more polished, they eliminate the step of finding a shirt to go underneath the jacket, and they're one less thing to pack on trips. AT's selection is limited – I own both and love them; Talbots' is matronly. Need 'em conservative enough for court appearances, but not "mother of the bride." (I'm 35.) Slightly fashionable would be a bonus!
Great question — and you're right, suit dresses are disappearing; it was a bit of a hunt to find some to feature here. Readers, do you prefer to wear suits made up of a dress and blazer — or do you prefer other suit separates like pants and a skirt? Where are your favorite dress and jacket skirts from? (We discussed non-suit dress+jacket combinations in this post…)
Update: Our Latest Favorite Suits with Dresses Instead of Skirts
Here are some of our latest favorite suits with dresses — but also check the brand recommendations in this post:
This post contains affiliate links and Corporette® may earn commissions for purchases made through links in this post. For more details see here. Thank you so much for your support!
Some Easy Tips to Find a Great Suit Dress
On the budget end, check out TJ Maxx and other similar discount places — a lot of times these dress+jacket suits are sold on a single hanger and can be found for some serious steals.
If you like colorful suits or suits with a lot of colorblocked details, keep an eye on Macy's and Lord & Taylor — they have a lot of brands like Kasper, Tahari, Calvin Klein, and Anne Klein that I traditionally associate with this kind of look.
On the higher end, keep an eye on Boss, Theory, Reiss, and Brooks Brothers — they often have suiting separates that include dresses — and on the much higher end, St. John's suits often have a matching dress.
Readers, let's hear from you — do you like to wear suits with dresses instead of skirts? What do you see as the pros and cons to the look? Where's your favorite suit dress from — and where would you go to look for one right now?
Updated images via Deposit Photos / sheftsoff.
Admin note: this post was originally written March 2018, but updated substantially as noted.