Here's a fun question for today: which colors do you usually buy for clothes for work? Do you buy different colors for the weekend you? What colors do you think you don't look good in/do look good in? What color combinations do you find yourself wearing a lot? Do you think there are best colors to wear to work? (For example, here's a whole Business Insider article about color psychology, suggesting that gray is unacceptable because it's "too passive," which kind of makes me laugh when I think about all the fabulous gray suits and trousers we've featured over the years!)
I was thinking about the my own color preferences for workwear while shopping at the Carlisle outlet last week — the brand was new to me until I saw that a reader had mentioned the outlet in our NYC shopping post. While perusing the store, I sort of felt like I was in Texas or somewhere, well, not New York — there were lots of light colors, floral patterns, and numerous colorful dresses and pants that I kept thinking, ah, that would be so cute if only it were black or navy. (I was also thinking a lot about our older discussion on whether colorful suits are primarily for older women!)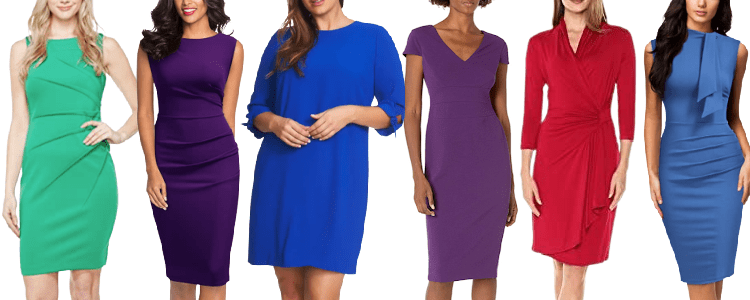 This post contains affiliate links and Corporette® may earn commissions for purchases made through links in this post. For more details see here. Thank you so much for your support!
For my own $.02, as I get older I recognize that navy looks better on me than black — but I still primarily buy and wear black clothes! For a while I even tried a capsule wardrobe with jewel tones like red, purple, and royal blue … and the purple and red stuff went almost entirely unworn. As for navy and dark blue — although I'm not opposed to wearing black with navy, I really don't like navy with dark rinse denim.
Psst: stay tuned for a roundup of our recent favorites for colorful, statement heels and flats!
For some reason colorful bottoms and jackets get a lot more wear than sweaters, blouses, and tops — perhaps because I can throw a black or navy top on and a simple necklace and feel like I've got an outfit, whereas with a colorful top it feels like I need to add a second color to the mix. (I know I've posted about this before but can't find it — in general I try to follow the rule to "wear color with color" because color+black looks a bit too stark and always, to me at least, feels like a lazy outfit — but that's me.
Psst: we've discussed what to wear with a black dress in the past, as well as discussed if there are any "color rules" regarding suits.
How about you, ladies — which colors do you wear to work? When you're buying clothes for the office do you favor certain colors? How do you think clothes colors vary by region, age, and more? Do you think there are best colors to wear to work, or colors that are definitely unacceptable to wear to work?
Hunting for colorful pants for work? They're very popular everywhere for 2023 — but note that in general brands like Rekucci, Krazy Larry, Banana Republic, BR Factory Express, J.Crew, and Boden have a ton of options; here's a mini-roundup of what's out there right now:
Picture via Stencil.