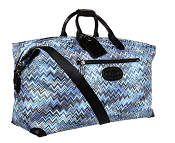 Sure, we all know what basics professional women are supposed to have in their closets, but if you're buying one for the first time or replacing one you've worn into the ground, it can be a pain to find exactly the right incarnation in stores. In "The Hunt," we search the stores for a basic item that every woman should have.
If you're traveling for Thanksgiving, you're probably thinking of what to carry on the plane (the minimalist travelers probably can get away with just a weekender bag and their usual purse; for me the weekender bag beCOMES my purse and usually supplements my rolling bag). I thought I'd poke around and see if I could find a few durable, lightweight, and big bags for the upcoming trek.
Readers, have you recently bought a weekender bag? What do you try to carry on to planes if you can?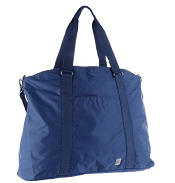 This bag is almost sold out at Amazon (it's already gone at the Ellington web site) — but the navy is still there and on sale at Amazon, and for a pretty great price of $54. (It's in black, as well, for $109.) This looks like a huge bag, and I like that there's an outside pocket that you can unzip from both bottom and top to slide it over a rolling bag, should you want to. ellington Amelia Weekender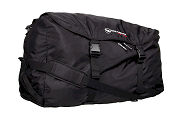 I was not familiar with the brand "Big Agnes" before, but I think this actually looks like a great bag — it looks lightweight yet durable, huge, and with a ton of organization inside (watch the video on Zappos!). It's $69.95. Big Agnes Road Tripper Duffel
Hmmn: I am a little concerned that my longstanding favorite weekender bag (the Le Sportsac Extra Large Weekender) seems to be in dwindling supply everywhere — Zappos has but ONE color, and Amazon only has a few, and it's even in only a few colors at LeSportsac's website. (eBags actually has a pretty good selection right now as well, including discontinued colors on sale.) There's always the "Large Weekender," of course, but it's a bit smaller than the XL (the XL is 24″w x 12.5″ d x 16″ h; the L is 20.5″w x 10″d x 14″h). I have two and they're so durable I'm probably set for life, but… hmmn. Shop now if you don't already have one, ladies! The XL weekender pictured here is $138 at Zappos. LeSportsac Extra Large Weekender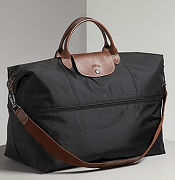 While the nylon-only bags are great for weight, sometimes you want a more grown-up look with leather accents — and I think this Longchamp expandable duffel tote looks perfect for that. I do wish it came in a black/black combo, but that's generally my problem with Longchamp. (I actually do have a 17″ black/black tote, but I bought it in person at the Longchamp store in SoHo — I've never seen the bigger bag in a black/black combo available online.) This bag is $255 at Bloomingdale's (in brown/black and brown/brown; Neiman Marcus also has it in a camel). Longchamp Le Pliage Expandable Travel Duffel ToteUpdate: Saks has one that you can personalize, as well.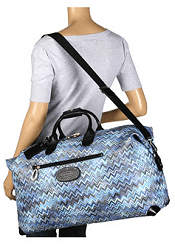 If you want to add a bit of glamour to your weekend getaway, I'm totally lusting over this Missoni for Bric's 22″ duffel bag. It comes in four colors (the blue here, then 3 other patterns in hues of black/white, pinkish, and brownish). I think this is the only bag of the round-up that is waterproof, and I like that this one also has the "trolley strap" on the back of it to slide over your rolling bag. Gorgeous. It's $525 at Zappos. Bric's U.S.A. Missoni for BRIC'S – 22″ Duffel
Like this feature? Check out other recent installments!
(L-all)