2019 Update: We've added a carousel of our 12/18 picks for winter coats for work — you can also check out our fuller discussion and roundup of the best winter coats to wear on your commute.
Sure, we all know what basics professional women are supposed to have in their closets, but if you're buying one for the first time or replacing one you've worn into the ground, it can be a pain to find exactly the right incarnation in stores. In "The Hunt," we search the stores for a basic item that every woman should have.
Sure — everyone who lives in a cold climate knows that you've got to have a warm winter coat. But who makes the most professional winter coats? What qualities define it — and how crucial is it to your office style? For our $.02, it's knee-length, which covers skirts but doesn't overwhelm you if you're petite, and is slightly bigger than the size you normally wear, so you can fit your suit jackets beneath it. Also, we've always heard that a wool/cashmere blend is much warmer than a pure cashmere blend. You should try to get it dry-cleaned once a season (too much more and it will look worn too soon), and hope to have it last at least 3 winters. Although funnel necks seem to be in this season, we're in favor of the traditional "walking coat" for the your basic (but preferably one that does have the option to fasten all the way up to your neck, so you don't need to rely on scarves to keep you warm). These are the best winter coats we can find online, but we really suggest going to the store to check them out — the wool should feel soft, not scratchy, and that's something best compared in person; furthermore, the intangibles (such as inside pockets and a fun printed lining) aren't often featured online).
Some Recent Picks for Great Winter Coats (12/2018 Update!)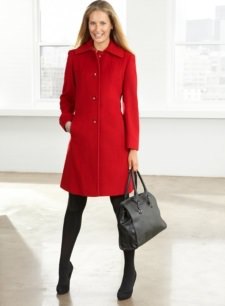 For our money, this is a great looking coat. We wish it were made of a more lux fabric, though — a wool/nylon blend can sometimes be itchy. Larry Levine Coat, A-Line Wool Walker, available at Macys.com — was $290, now $216.
The J.Crew coats are classic ones, also; they come in a ton of colors and have the option for thinsulate. Double-cloth lady day coat, available at Jcrew.com for $318 with thinsulate (and available in talls and petites).
The belted coat is another way to go, although not our preference — the belt can sometimes rumple the jacket, or make the overall effect look a bit like a bathrobe. If you don't mind those caveats, though, then we like the asymmetrical zip on this one, and particularly love the wool/cashmere blend. Now $319, was $470 at Overstock.com. Cole Haan Wool Cashmere Asymmetrical Zip Belted Coat

(Be sure to check out the Cole Haan sale at RueLaLa.com today, as well!)
This is a great example of this season's funnel-neck craze — we like the fitted look with the belt here (caveats noted above). Burberry Wool/Cashmere Coat, available at Saks.com for $795.
This is another great example of the funnel-neck trend, but one that seems a bit more conservative — the length is also very wearable, and the shape isn't too flared or dress-like. Like it. This one is the major splurge of the bunch: Fleurette Cashmere & Wool Coat, available at Nordstrom's for $1425.
Our current winter coat is a Via Spiga wool/cashmere blend walking coat that we got at Macy's about two years ago; it was originally priced around $500; we particularly like the colorful silky lining, which makes it very easy to find quickly in a coat closet. Readers, what do you look for in a professional winter coat? How important is it to your office style?