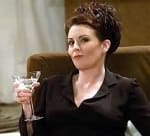 How do you get a lazy secretary to work harder for you — or how do you complain about her to the Powers That Be without seeming petty? Reader E, a reader from New Zealand, has this very problem…
I share my secretary with my supervising partner, however he hardly uses her and often if she doesn't have work to do for me she won't do anything all day. She works part-time and has been a legal secretary for about 20 years.

She spends more time walking around the office talking to other staff than she does working. I dictate work for her to do that does not come back in a timely manner, instead she returns the dictated work just before she leaves (despite my requests for it throughout the day) so that if there are any changes to be made to work that needs to go out that day, I have to do it myself. Unfortunately, whilst everyone else in the office notices that she is lazy, my supervising partner either does not notice or doesn't want to notice as he thinks that she is great.

Yesterday I asked her to do a simple task and as it was nearing the end of her working day she went over my head to my supervising partner and complained about doing it whilst I was in a meeting with a client, he told her that she didn't have to do it and that it could wait till Monday! I can't help but feel let down by him.

What should I do? I want to let him know how lazy she is but do not want to face a backlash from him.
We've talked before about delegating work to a secretary, but we haven't talked about what to do with a bad secretary. This is a really, really tough question — I've been there and it is not a fun time. One of my favorite stories was from one of my friend's secretaries, though: My friend handed a folder containing packets of neatly stapled papers (including a memo, legal decisions, web pages, and more) to her secretary and asks for 5 copies, original to A, copy to my friend, and the other 4 copies to B, C, D, and E. The secretary then went to the copy machine, removed all of the staples, and put the entire collection through the copier — which got jammed halfway through.  She then tried to "recreate" the collection of the packets that my friend had handed to her. Let's just say that everyone (from A-E) had a good laugh about the work product they received.  (Yes, laughter: let's hope it was that.)
To me, it's a bit of a problem that the supervising attorney told her it could wait until Monday — you don't say enough about the problem for me to get into it, but it sounds like either a) he already has a great relationship with his secretary (or even prefers her to you) in which case, complaining to him is going to get you nowhere, fast, b) he doesn't think the work you're giving her is important, in which case you might want to talk to him about it directly — not about how lazy the secretary is (because again, that will get you nowhere) but to understand whether 1) the work really is not that important, in which case, hey, enjoy your own weekend! or 2) this is the kind of work the firm expects you to do by yourself.  Either you have a secretary to do secretary's work or you don't.
That said… as I see it, you have a few options here.
Be very clear with your secretary. Instead of saying, "Please type this document as soon as possible," say "I really need this document typed by 12:30.  Will that be a problem?"  This way, if what she gives you requires changes, you can ask her to do those by the end of the day.
Do the work yourself. Since my friend told me the story above, I'll admit, my own response to a bad secretary has just been to do the work myself.  I've copied, typed, redlined, and more.
See what other options your company offers for support staff. For example, if you need something typed, red-lined, or grammar-checked, give it to the Steno Department rather than to your secretary. If you need something copied, give it to Duplicating instead of your secretary.
Move offices. Frequently secretaries are assigned based on where you sit; you could possibly get a new secretary by simply changing offices.  It isn't a perfect world — you have to take the time to move your office — but I've known people  who've done this to get away from a bad secretary.
Talk to your secretary. I've had to do this once — one of my secretaries had a few weeks where absolutely nothing she did seemed to be right and, after a pretty large screw-up, I sat her down and tried to come from a place of concern — I've noticed your mind is elsewhere lately, and I wondered if I could ask if anything is going on outside of the office?  As it turned out, yes, a lot of stuff was going on in her home life with her children.  I expressed my concern and eased up on her for a while, and I felt like we came out of the incidences with a much stronger assistant/employer relationship.  In your situation, you might want to sit your secretary down — strive to understand her.  I'd make out a list of bullet points that you want to get across to her — for example, the reason that it isn't acceptable for her to give you something as she runs out the door, or why her delay in Project A affected your work in X, Y, and Z ways.  Did she have other work that day that you're not aware of?  Is it a communication problem — did she not understand that you needed it done in a certain way?  It can be difficult but as long as you come at it from a place of understanding (and not one of anger or blame) then I think it's worth a shot — at least, before the next option, which is:
Talk to your boss about her. To me, this would be the last resort — particularly given the facts you cite above (they've been working together for a long time, he let her take off early on a Friday and absolved her of work you had given her, etc.)  I think you need to be really realistic about what is likely to happen, as well as what you want to happen.  For example: Do you want her fired?  There's no guarantee the new one will be any better, and you'll be known as the one at the office who gets secretaries fired.  Do you want a different secretary, say, X from down the hall?  Ask HR discreetly if you can change it up — say you get along so much better with her, you've heard amazing things about her, et cetera.
Readers, what is your advice to Reader E about bad assistants and lazy secretaries? How have you handled the situation in the past?