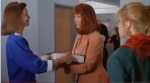 2016 Update: We still stand by these tips on delegating to your assistant — but you may also want to check out our latest discussion on how to delegate!
Reader E wonders what you can and should ask your assistant or secretary to do — and what is off limits. Great question!
I have been fortunate and I find myself a busy exec at a consulting firm at a young age. I am working 60-80 hours a week and just learning how to leverage my assistant. She is helping me with my expenses and time entry, but I suspect she and I could both get more out of the relationship. I've grown up in a world where I can do almost everything myself (like book travel) but I'm struggling to manage my work/life balance. I could use help with just about anything but as I dive into the world of asking for help, I don't want to find myself at the other end of the spectrum where I'm asking too much or being inappropriate. Advice that outlines do and do not categories or mentions creative ideas might be most helpful.
Congrats to be a busy exec, and a special congrats on getting what sounds like a competent and helpful assistant — they can be hard to come by, so treat him or her like gold! (And apologies in advance for every time I say "her" meaning the assistant — in addition to being Reader E's situation, it's easier to type than "him or her" every time!) 
(Pictured:  Screencap from Don't Tell Mom the Babysitter's Dead. We're right on top of it, Rose!)
Oh, and PSA: here's when Adminstrative Professionals' Day is:
Update: Administrative Professionals Day is April 24, 2024. Some great gifts to get for your administrative professional (other than cash, of course) include:

This post contains affiliate links and Corporette® may earn commissions for purchases made through links in this post. For more details see here. Thank you so much for your support!
For my $.02, you can delegate the following sorts of things to your assistant, depending on your job:
1) Expenses / time sheets / other simple data entry. This is what most people will use their secretaries and assistants for, and in some companies — particularly where an assistant is shared between four or five people — that may be all that he or she is asked to do.
2) Grunt work like photocopying, mailing, faxing, scanning, even typing things that can't be OCR'd (or proofreading things that have been OCR'd).
3) Liaison activities. This is where your assistant will start to be more useful to you: have him or her act as a liaison with colleagues, clients, and opposing parties, to schedule conference calls, meetings, and more. Give her access to your calendar (there are ways you can set up a "shared" calendar in Outlook, if memory serves, that lets you only show her *some* of your activities — same with Google Calendar) so she doesn't have to run in to check with you every time.
4) Filtering. You can absolutely ask your assistant to screen calls and even emails. In fact, with a lot of senior people it's difficult to get an email to your target without having it filtered by the assistant first. (I once worked with a Big Wig who, in addition to needing filtering, just wasn't comfortable with email yet — his assistant got all of his emails and would print out the important ones, and he would then scribble a response on the printout and hand it back to his assistant to be typed.) 
Depending on what your work entails, you can even have him or her skim different publications and flag any stories that might be of interest to you. For example, when I was 22 and a very junior editorial assistant at a magazine, I read 30 magazines on a weekly basis for the EIC and flagged different stories that I thought might be of interest to her, either for a story idea for our publication or from a "you should know what our competitor is doing" perspective– similarly, I now have my virtual assistant read a lot of the RSS feeds that end up in the Weekly Roundup.
5) Dictation/transcription. I truly believe that there is a lost art to dictation, and I never quite mastered it, try as I might. As a lawyer, I primarily found it helpful when I had been reviewing cases, treatises, and other documents like deposition transcripts and more where I would find big chunks of text that I wanted to use in the draft of whatever I was writing but didn't want to type them — so I would dictate them. I tried it both with my assistant at the time and the speech-recognition transcription program Dragon NaturallySpeaking
, and there is a learning/teaching curve to both.
Personally, I found Dragon more helpful because I could see what I had said aloud almost immediately which made proofreading easier, whereas with my assistant it may have been a few days before I saw the transcribed notes. I'll also note that transcription jobs can vary in difficulty: if you're writing a one-page letter using simple, regular words it's going to be a lot easier than if you're taking notes on an arcane area of law with a lot of terms of art, or if, say, your consulting work involves medical or pharmaceutical terms or acronyms.
6) Research for work-related things. For example, let's say you need to create a number of posters for a presentation — your assistant can call Kinkos and see what the deadline is, what format the image files need to be in, what the cost variations are, and so forth. Similarly, if you're having a work-related lunch you can have your assistant call different restaurants to see who has a table available at a certain time or date; same for work-related travel arrangements.
7) Things your assistant thinks she can do that will assist your professional life. If you're dealing with an assistant who handles everything you give him or her very well, take her out to lunch to thank her, and talk about how you can better use the relationship. For example: "You've done an amazing job with everything I've given you, and I can tell that you're capable of more. What else have you done in the past? What else might you think that I could give you to do?" Your assistant might also use this opportunity to tell you what jobs she hates doing, or what she wants out of the relationship (maybe she's studying to do what you do in the future; maybe she wants more flexibility with her schedule, like longer lunches or earlier nights) — listen to her, and if you can, accommodate her on at least one or two items.
Things NOT to ask your assistant to do:
1) Personal tasks. At least in most situations that I've been in or witnessed, the secretary/assistant's job is not one of personal assistant. You should not task her with things that have no relation to the job at hand: booking vacation flights for you, picking up a box of tampons, or even getting you coffee on a regular basis. (Although, if a client came to your office, I wouldn't hesitate to ask your assistant to get the client a cup of coffee.) If you have that rare assistant who is happy to get you a cup of coffee on a regular basis, or is willing to pick up personal items for you at the drugstore — again, treat him or her like gold: I view all of that stuff as "above and beyond."
2) Anything that crosses into YOUR job. For example, it's one thing to have your assistant print out pages from 5-10 different websites or scan/photocopy pages that will help you do an analysis for your job — it's another thing to ask your assistant to do a rough draft of that analysis herself.
Readers, what else do you use your assistants or secretaries for? What do you consider off limits in terms of secretarial tasks?
We are a participant in the Amazon Services LLC Associates Program, an affiliate advertising program designed to provide a means for us to earn fees by linking to Amazon.com and affiliated sites.