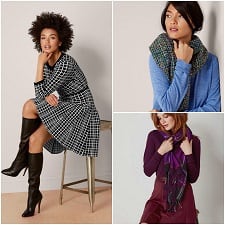 Disclosure: This post is sponsored by The Limited, but written by your regular friendly blogger Kat.
The Limited has a lot of sales, but this is a really great sitewide sale — $30 off Every $50 You Spend (using code TREATS). This offer includes all Eva Longoria Collection Items + New Arrivals + All Sale Items!   Note that you can get free shipping if you spend $125, but you can also reserve items for in-store pickup — even online exclusives! Another important note — the sale details change every day, so these prices are good only for Thursday, October 27. I thought I'd round up some of my favorites from the sale, but ladies, let's hear from you — have you gotten anything great at The Limited lately?
(Pictured at top, some of their top looks — grid dress / blue sweater / purple top & skirt.)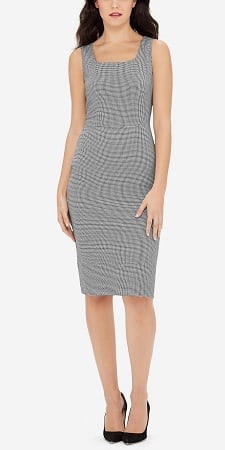 This houndstooth sheath dress would be great for a woman most comfortable with neutrals like black and gray — it's a very safe way to dip your toe into the water of prints.  Add more neutrals to keep it very traditional, or have fun mixing more patterns with it, like a floral scarf or a striped (or heavily ribbed) cardigan (ooh, or the polka dot lining of one of their Madison blazers, maybe in light pink or dark purple). It's $99 full price so you can take $30 off — if you spend just a little more you get $60 off. (If you're looking for small items to add to your cart, consider this jewelry fixing kit, these 120 dernier tights, or these socks.) The dress is available exclusively online in regular and petite sizes 0-18. Houndstooth Sheath Dress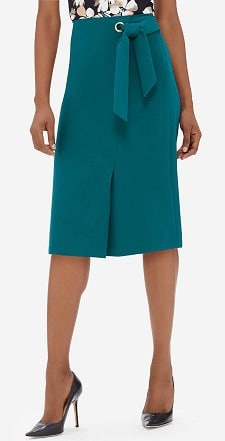 I feel like I just saw another very similar skirt for about three or four times the price that had the same tie detail — I love it because it feels fresh and now, but still traditional and classic. I like that this one is machine wash tumble dry, and available in black and teal sizes 0-14. The skirt was $80 full price, but with the sale you can take $30 off. Front Tie Midi Skirt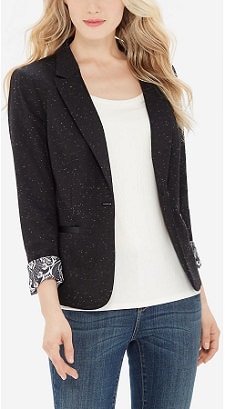 Every time I happen to be in a Limited I stop and ogle the Madison blazers — they come in so many fun colors, all with a fun lining on the cuffs and collar.  This black speckled blazer with a floral (lacy?) print is particularly fabulous. The blazer was originally $120, but with the sale you can take $60 off — bringing it down to $60. It's available in regular and petite sizes XS-XXL. Patterned Madison Blazer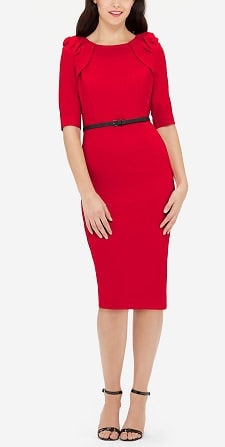 This red dress also comes in black, but I kind of like the vintage ruffle details best on the red. Curvy/hourglassy reviewers seemed to particularly like the dress, and I like that it's machine washable.  It's available in regular and petite sizes 0-18 — it's an online exclusive but can be reserved online to be ready at the store. It's $149 full price; with the sale you can take $60 off ($90 if you spend just a bit more).  Eva Longoria Ruffled Dress
Of course, if we're talking about real value, you can't talk about The Limited without talking about some of their best selling basics.  Their suiting collections are great (particularly if you're a petite or a tall, but everyone can benefit from the zillion different pants fits), their "perfect" t-shirts, and their washable "exact stretch" pants and skirts are always great.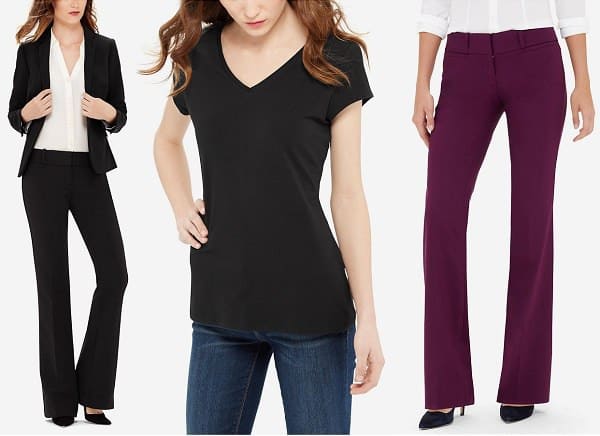 Pictured: suit / tee / pants
Thank you so much to The Limited for sponsoring the post!
(L-all)