Can you still dress for yourself if you're "dressing for power"? Today's guest poster, Sally McGraw from Already Pretty, believes you can — and I think she's got some great tips that we haven't talked about before. Welcome to Corporette, Sally! – Kat. (Pictured: Power Girl, originally uploaded to Flickr by levork.)
Most conversations about the power of dressing seem to center on sexuality and gender. Western society believes that if a woman is going to use clothing to express or enjoy her own power, she will do so either as a seductress or as an androgynous figure. She will flaunt her power by displaying her cleavage, hips, and legs, or she will dress in garments that echo traditionally male forms to blend in with her acceptably-powerful male peers. Both methods can be tweaked and manipulated to make them feel more personal and expressive, or to make them feel more appropriate for professional settings. Both methods are also effective and accepted, and both have value under certain circumstances. But I'd like to propose a third form of power dressing: Dressing for yourself.
Dressing for yourself isn't easy. First off, it can be incredibly difficult to sort your own wants, needs, and tastes from the subtle but powerful influences of culture, peer pressure, and expectation. Second, what you want to wear and what you CAN wear are affected by your finances, body shape, and the availability of clothing that suits your needs. And finally, those of us who work in corporate and office environments are confined by dress codes, both formal and implied. But dressing for yourself allows you to access deep levels of self-confidence and creativity, helps you broadcast self-respect, centers you. Where seduction and androgyny can fail you, dressing for yourself often triumphs. And it CAN be done within strict professional confines. Here's how:
Get sentimental
No, I don't mean haul out your college sweatshirt and start wearing it to work. I mean start incorporating gifts, heirlooms, travel souvenirs, and other meaningful items into your outfits. If everything on your person was purchased for the express purpose of looking acceptably professional, you may feel capable but you're unlikely to feel unique, inspired, and powerful. Your grandmother's earrings, a skirt that your best friend gave you, platform pumps you bought in Paris will all boost your confidence and make you aware of your individuality.
Get colorful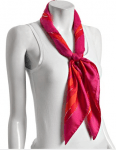 The power of color is well-documented, and constitutes a fabulous shortcut to dressing for impact. Bold brights are the obvious choices for projecting power. Head-to-toe red may be impossible, but a blouse, scarf, or pump is surely possible. If yellow washes you out, try a belt or brooch in canary or citron. Cobalt is incredibly hot this season and looks amazing in patterns and accessories. And if punchy primaries aren't your bag, try the jewel tones; They're regal, royal, and fabulously flattering on many complexions. You may need to stick to chic neutrals for your suiting, but why not splash some empowering color into the outfit mix? It's bound to make you feel invigorated and inspired. (Pictured: Tory Burch pink square print silk scarf
, available at Bluefly for $137 (was $195).)
Get sneaky
Dressing for power is all about emotion and perception. If you feel powerful, you will project an image of power. So imbue your choices with meaning. Those around you may just see a cuff bracelet, but if you look down at your own wrist and feel like you're embracing your inner Wonder Woman, you're halfway there. That updo may not look like much to others, but if it makes you feel graceful and focused, it's a powerful sartorial tool. The pattern on your blouse may be meaningless to most, but if it reminds you of your favorite painting or photograph, it will motivate and stir you. Make decisions about your ensembles that are secretly meaningful, and you'll feel all the more fabulous.
You may find that dressing for yourself overlaps with embracing sensual styles or androgynous looks. Or you may find that the wardrobe you've cultivated for your working life emanates power on its own simply because its yours, and it exists due to your hard work, ambition, and impeccable taste. But if you feel like the typical forms of power dressing fall flat, or that your current ensembles feel cold and uninspired, consider how you might start dressing more for yourself than for the expectations laid at your feet. Doing so may help you tap into untold stores of personal, creative, and professional power.
At least, that's been my experience. What do you all think? What does it mean for a woman to dress powerfully? Does it mean projecting power toward the observing public, feeling powerful internally, or a mixture of the two? Do you consider either of the sex- and gender-centric power dressing methods I've described to be inappropriate? Ineffective? Ideal? What do YOU do to dress for yourself? Do you feel like it helps you project self-confidence when you do?
Interested in writing something similar for Corporette? Check out our guest posting guidelines.