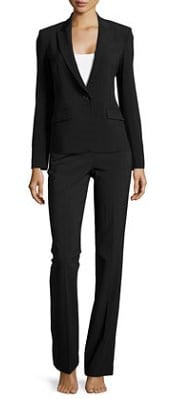 For busy working women, the suit is often the easiest outfit to throw on in the morning. In general, this feature is not about interview suits for women, which should be as classic and basic as you get — instead, this feature is about the slightly different suit that is fashionable, yet professional.
OK. I don't know if I'm the only one who has been confused by Theory lately, but there have been so.many.tweaks to staples in their line, with minimum changes to the name of the style. Their staple suiting pieces have, at least in recent years, been the Gabe (blazer), Golda (skirt), Max (bootcut pants), Emery (wider trousers), Betty (sheath dress). Let's take the blazer for example — first it was just the Gabe blazer. Then it was the Gabe B. blazer. Then it was the Gabe B.2 blazer. Now it's the Custom Gabe Blazer. I saw this "Urban Gabe Blazer" at Last Call and my head exploded — was this a new diffusion line? So I called the store to see if they could give me some insight. It's actually pretty simple: all of the old Gabe blazers are obsolete and not being produced any more (including the one pictured below, which is why it's on sale). The newest version is the Custom Gabe, which has a wider lapel and is more structured through the bodice. "Urban" is the name for the fabric that went with one of the previous versions (the Gabe B.2 I believe); the current fabric they're using is named Edition. ("Tailor" is another fabric name you may recognize, which I believe went with Gabe B.) The new fabric is a similar wool blend, but has a bit more stretch and feels a bit softer.) Some of the old product pages still exist on Nordstrom, so I've taken screenshots of them all here for comparison purposes if you bought one in the past, liked it, and are trying to stock up on sale online (Gabe B., Gabe B.2, Custom Gabe).
In the MEANTIME, yes, Last Call has a pretty good price on an older version. The jacket (Gabe B 2 Urban One-Button Blazer) is $299, formerly $375; the pants (Max 2 Urban Bootcut Trousers) are $199, down from $275. Additionally, there's a less traditional blazer, also in the Urban fabric (Theory Lanai Urban Open-Front Blazer), was $375, now $279. Last Call has all three in both black and oatmeal.
Plus size readers, please discuss: what is the classic black suiting that comes in plus sizes, and is thought of along similar lines? What is your go-to brand? I could link to a similar black suit for a plus-size comp, but I'm more interested in the discussion — is there a brand or suit that has a similar Hall of Fame status?
2016 Update: This suit is now in our Workwear Hall of Fame! It's been a hit for years (see our notes above) and is still a best seller at Nordstrom (jacket / skirt / pants / dress), Bloomingdale's, Saks and more — and occasionally, if you know what to look for, yes, you can find sales like the one we posted about here at Amazon, Last Call, or Off Fifth.