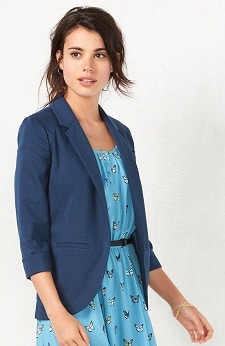 Our daily workwear reports suggest one piece of work-appropriate attire in a range of prices.
This is a very highly rated ponte blazer at Kohl's, one of those places where everything always seems to be 30% off (and maybe you happen to have a really crazy coupon as well?). One of these days I'll do a roundup of the best ponte blazers for under $50 because there are many! This comes in five colors and sizes 0-18. Unexpectedly (and unfortunately), it's dry clean, but it's not labeled dry clean only. Still, at this price it's hard to beat. If you have issues with wearing blazers on top of dresses, the shorter sleeves on this one are likely to be flattering. LC Lauren Conrad Ponte Blazer
Update: Looks like this has sold out!
Here's a plus-size option.
Seen a great piece you'd like to recommend? Please e-mail [email protected]