Something I've noticed a LOT of friends doing lately is backing away from social media. I've been doing a partial social media break, since as a blogger I can't really take a total break — but I've definitely modified my consumption. So let's talk about it: What are you doing with the extra time if you're on a break? Where are you getting your news and intel if you're on a TOTAL break? What other ways are there to take a partial social media break? (In related news, we've also talked about how to focus on work when current events are stressful.) Some options I've heard of or have done myself for a partial social media break:
1) Modify your news feed so you don't see people, groups, or news sources that are stressing you out. I regularly do this trick with people I'm "friends" with on Facebook for some historical reason, but don't want to see every hourly thought from — for example, that guy who sat behind me in English class in 11th grade. I will also admit that I did this with groups like Pantsuit Nation and Lawyers for Good Government, particularly in the days before the inauguration where I felt like I kept seeing frenzied posts containing bad information.
Here's how to hide posts from friends: Click the dropdown arrow and then choose "Unfollow ____." You'll stay friends but stop seeing posts.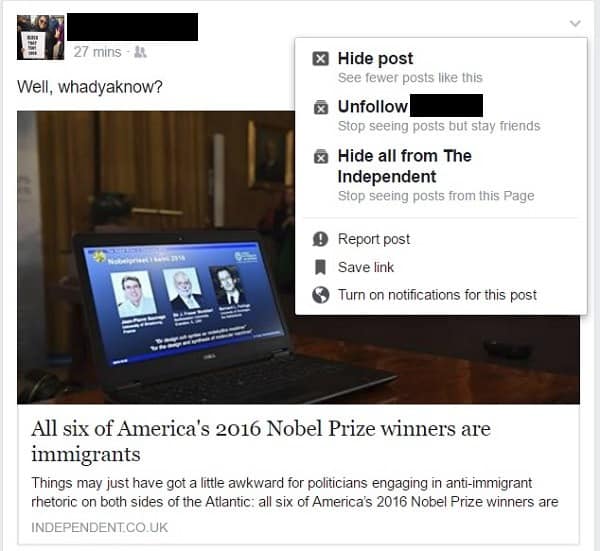 And here's how to unfollow news sources and groups — click the dropdown button and you can "hide all." (As I note below, since the election I've "liked" a lot of conservative news sources on FB — but I'm obviously still getting partisan news from my side of the political spectrum as well!)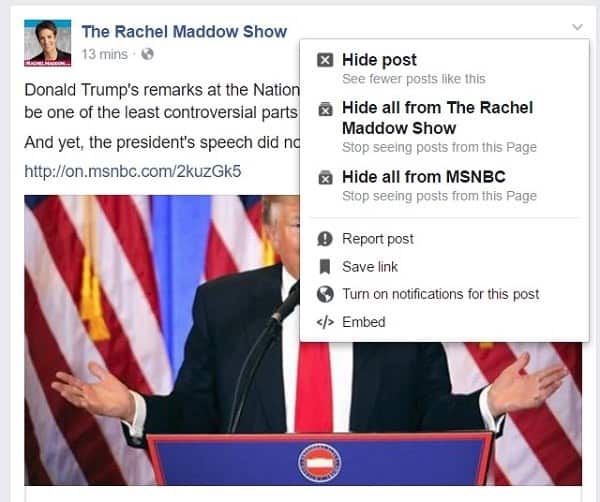 2) Limit your sources. There's been a lot of talk of fake news, reliable news sources, etc. (Here's a handy chart, although it is not without criticism.) I just don't open anything from sources I consider to be "bad" news. (If it really seems urgent I'll head to The New York Times to see if they're covering it.) (As a former journalist and media lawyer, a minor plea: Please support good journalism where you can! The Washington Post is having an amazing deal for Prime members; the NYT is also pretty affordable. The Wall Street Journal is a bit more expensive, but I always enjoy their stories! We also had a whole discussion on how to follow current events a few weeks ago.)
3) Expand your sources. This may be counterintuitive, but I've found it kind of helpful. After the election results, I tried to start following a lot of reputable, conservative news sources on Facebook so I would get a more balanced view of the world. Sometimes it's been like Bizarro World (particularly as Obama's administration ended), but lately everyone seems to be on the same page — and I find it oddly comforting that no one seems particularly happy with the way things are going right now.
4) Limit your viewing time. I've talked before about my love of the Chrome extension, Morphine, or the Firefox extension, Leechblock, and I have strict viewing limits on Facebook. This doesn't help, though, if you're the type to go into Facebook and click on 3-5 news articles you see in your feed — the extensions will block you from Facebook itself after the time ends but you'll still waste time on those 3-5 news articles.
5) Don't check Facebook at times you're prone to anxiety. I SHOULD be doing this, but I do not. I check Facebook right before bed, in part because I'm on my phone or iPad and am not time-limited like I am on my computer (thanks to the different extensions mentioned above).
6) Develop a calming routine after you check Facebook. It may sound crazy, but I've found it's helpful — I'm kind of binge-reading brain candy books right now as a necessary step before bed, since I tend to check FB at the end of the day.
7) Double down on kitty pictures. There are a number of extensions that help fill your news feed or other parts of the web with kitty pictures, let you remove all politics from Facebook, and otherwise "fix" your feed.
Ladies, have you considered taking a social media break for a while? Have you done it cold turkey, or done a partial social media break like I've done?
(Oh, and full disclosure: I still own stock in Facebook.)