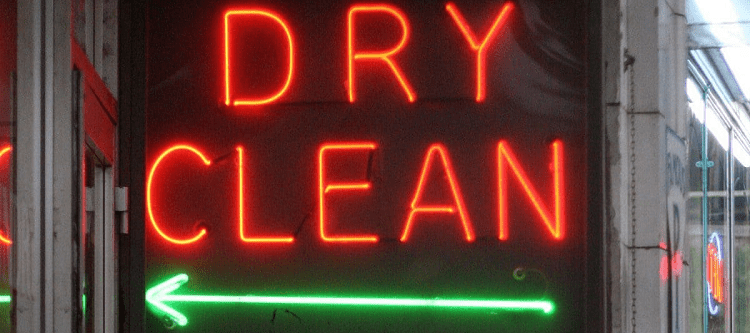 Do you check the fabric care label on a piece of clothing you're thinking of buying? When you find out that it reads "dry clean only," do you put it back on the rack, or resign yourself to expensive and inconvenient trips to the dry cleaner?
We haven't talked about how strictly we should follow washing instructions like "dry clean only" in quite a while, so let's chat about it.
"Dry Clean" vs. "Dry Clean Only"
First, what do "dry clean" and "dry clean only" labels actually mean? Technically, the former means dry cleaning is recommended while the latter means dry cleaning is a must.
According to Martha Stewart Living, you can hand-wash or use the washing machine's cold cycle for unlined clothes made from natural fibers or polyester, while the dry cleaner is your best bet for suits, pleated skirts, rayon and other "delicate synthetics," silk, wool, leather, suede, and clothing with sequins, beading, or metallic pieces.
The article points out that clothing manufacturers err on the side of caution by saying "dry clean only;" they want to reduce the risk of customers returning clothes damaged by improper home washing.
(By the way, over at CorporetteMoms we regularly feature machine-washable workwear.)
Some of our favorite brands of washable workwear as of 2023 — where many of the pieces are machine washable — include NYDJ, Vince Camuto, Halogen, Quince, Everlane, Summersalt, Banana Republic, Banana Republic Factory, Lands' End, and Karen Kane. On the fancier side, check out M.M.LaFleur, Hobbs, Ming Wang, Boden and Eileen Fisher.
Here are several more tips for washing "dry clean" or "dry clean only" clothes at home, including advice we've collected from Corporette readers' comments:
Psst: here are some of the products we mention here:

Tips For Washing Clothes Labeled "Dry Clean" (and "Dry Clean Only")
Do what the directions say at first — then take your chances.
If you buy something that's labeled "dry clean only," do what the label says for the first year or so of wear, then try washing at home. (See below.) In the best case scenario, the item of clothing does just fine with the new washing method; if not, at least you got a good year out of it.
(Kat's note: I've regularly, regularly had success washing "dry clean" clothes in Woolite — but I have ruined clothes that were "dry clean only" that accidentally went in the wash. Be careful.)
Follow the "dry clean only" label only for certain kinds of clothing.
Decide which clothes are really worth the expense and hassle of dry cleaner trips — your suits, perhaps, or nice dresses, or items that would be hard to replace (either for sentimental or practical reasons).
Some readers say that their minimum for this is $100 — clothes that cost more than that go to the dry cleaner.
(Try to find a dry cleaner that offers free pickup and delivery — they do exist!)
Try Dryel. When we talked about this topic last time, Kat expressed her disappointment with Dryel while a few readers sang its praises in the comments. Dryel products are well reviewed on Amazon, including the starter kit and refill cloths, and Woolite appears to have its own home "dry cleaning" system with similar reviews.
Readers: Have you used either or both? Were you happy with the results? (Kat's note here — I'm really curious to hear what you guys say, I haven't tried Dryel in years!)
Use your washing machine — carefully.
If you find hand washing clothes to be a pain — either those with labels instructing you to dry clean or those that say to wash by hand — give it up (like Kat and I have). After all, it tends to make a mess, you have to wash each piece individually, and you may accidentally stretch delicate clothes by hanging them on a drying rack and/or by pre-drying them in a rolled-up towel.
A more convenient but gentle option is to put them in a mesh laundry bag, use the delicate or hand-wash cycle on cold with Woolite, and lay to dry on a sweater dryer — stackable, over-the-door, or hanging.
Buy a garment steamer.
While these won't exactly clean your clothes, they'll smooth out wrinkles if care labels warn against ironing.
On Amazon, garment steamers seem to fall in the $20 to $100+ range — a few highly reviewed ones are made by PurSteam, TaoTronics, and Epica.
Several readers have had success with these, but YMMV — and read the directions carefully.
Wear your "dry clean only" clothes more than once.
Kat talked about this in our post on dry cleaning suits, where she recommended hanging up suits to let them air out after wearing and keeping them cleaner longer by not wearing sleeveless tops underneath, but instead tops like these great t-shirts for layering.
Looking for the best women's T-shirts for layering at the office? As of 2023, these are some of our favorites — also check our posts on opaque white tees and the best plus-size tees for work!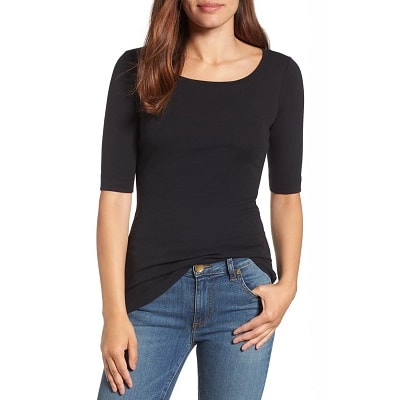 Buy specialized cleaning products.
Readers recommended The Laundress Wool & Cashmere Shampoo and Eucalan Fine Fabric Wash, to name a couple. On the other hand, another reader had success with baby shampoo. Speaking of cashmere, many people recommend not dry cleaning cashmere (oops), as this Real Simple tip explains.
Or … just try cheap vodka.
As we've previously recommended for suits, put some vodka in a spray bottle and spray some on your clothes, which will smell fresher after the alcohol evaporates.
(They even tested this successfully on Mythbusters, although specifically for cigarette smoke.)
Some readers said that they simply avoid buying an article of clothing that's marked "dry clean only" unless it's sure to be a good investment piece that will give them years of wear.
How about you? Do you avoid buying clothes that require dry cleaning? How do you wash your "dry clean" and "dry clean only" clothes? Have you ever accidentally ruined something by purposely not following the washing instructions?